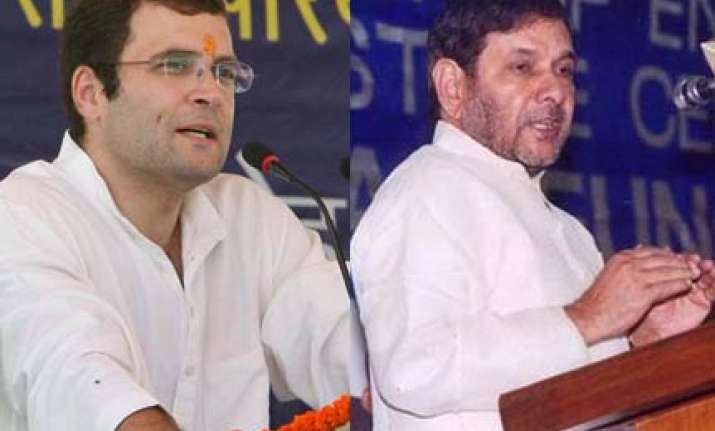 New Delhi Hitting back at Sharad Yadav for his personal attack on Rahul Gandhi, the Congress on Monday claimed he was panicky as huge crowds were turning up for Gandhi's  rallies in Bihar and demanded that the Election Commission take strict action against the JD-U leader.
"It is but natural that the JD-U President has got panicky as Rahul Gandhi is drawing huge crowds during campaigning in Bihar. He has lost his political balance completely," party spokesperson Shakeel Ahmed told reporters here. 
His remarks came after Yadav launched an unusually strong personal attack on the Gandhi-Nehru family and said Rahul Gandhi should be thrown away in the Ganges. 
"These people with the symbol of the hand (Congress party's symbol)... this country and this family, your family has also got fifty years (to govern). 
"Motilal, Jawaharlal, Indira Gandhi, Sonia Gandhi and now Rahul Gandhi. Right now a new boy (babua) has come. He does it like this," Yadav said imitating Rahul Gandhi's style of pulling up his sleeves while making public speeches. 
Stepping up the attack on Rahul, Yadav, who is also the convenor of NDA, said while addressing an election meeting here, "What do you know? Somebody wrote on the paper and gave it to you and you read it out... You should have been picked up and thrown away in the Ganges. But the people are sick... this country is unfortunate". 
Taking strong exception to Yadav's remarks, the state Congress unit has urged the Election Commission to take strict action against him. 
"We strongly condemn Yadav's remark against the Gandhi Nehru family... The Commission must take cognisance and take strict action against him," Bihar Pradesh Congress Committee (BPCC) spokesperson Prem Chandra Mishra said. 
He alleged that Yadav's remark was not only an insult but "criminal" as well.Ahmed, meanwhile, dismissed RJD chief Lalu Prasad's reported remarks that his son Tejaswi had surpassed Rahul Gandhi in politics. "I do not think that Lalu's remark is worth any reaction," Ahmed said.