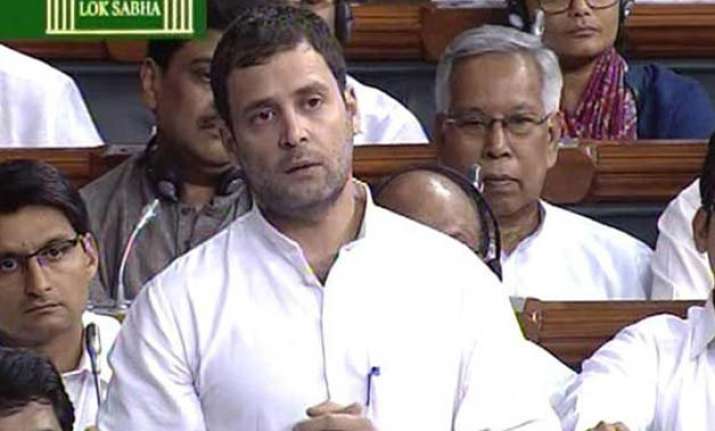 Congress Vice-President Rahul Gandhi's sabbatical was termed as an introspection exercise by the leaders of his party. After making a comeback, Rahul seems to be acting on a meticulously planned script.
First, he raised the issue of farmers both inside and outside parliament and today he demanded suspension of Question Hour in Lok Sabha to discuss Net Neutrality, an issue that appeals to the youth of the country.
Obviously, he is targeting two big chunks of Indian electorates – farmers and youth.
Rahul, who was back on April 16 after a 59 days mysterious vacation, targeted the Narendra Modi government over Land Bill in a hard-hitting speech in Sunday's kisaan rally. A day after, his speech in Lok Sabha on the same created a buzz all around the country including on the internet.
According to census 2011, farmers constitute 24% of the country's work force and even more people will be affected with the proposed land bill. Eager to create a  pro-farmer image for himself, Rahul Gandhi is keen to revive his political credibility and to present himself as a worthy replacement of Sonia Gandhi as Congress President.
Overwhelmed  with the support he received on the internet including on micro-blogging website Twitter with hashtag #RahulRoar, Rahul decided to speak up for the latest internet buzz Net Neutrality. Early in the morning today, he demanded for suspension of Question Hour session and sought a debate on net neutrality issue.
With his second speech in parliament in three days, that too on raging issue of Net Neutrality, he won many hearts and soon #RGforNetNeutrality started trending on Twitter.
In his Lok Sabha sppech today, Rahul targeted Modi government for acting at the behst of corporate. "Over 1 million people are fighting for net neutrality and the government is trying to carve out the net and hand it over to the corporates," he said.
He is probably the one of the very few politicians who have spoken up on the topic. If the government votes in favour of net neutrality, Gandhi can take credit for it and if the government acts against it, he can launch an attack on the government and the country would rally behind him.