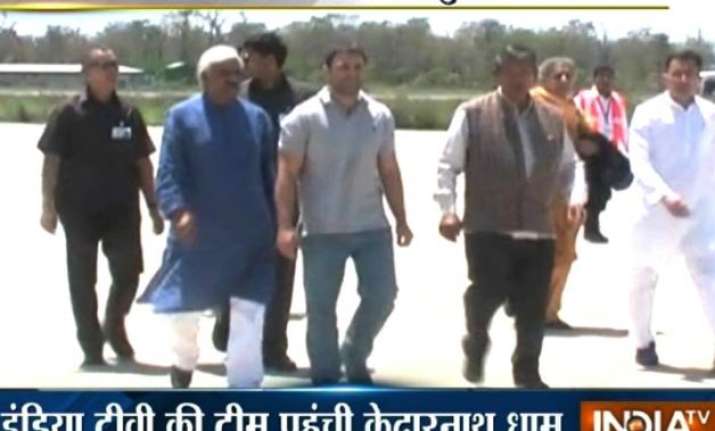 Dehradun: Congress vice-president Rahul Gandhi reached Kedarnath temple today morning after measuring 16-km trek from Gaurikund on foot. The doors of the temple opened at 08:50 am and Rahul was among the first batch of the devotees to reach the holy shrine.
After paying obeisance at the temple, he will also take note of the preparations made by the state government for the pilgrims.
Uttarakhand Chief Minister Harish Rawat and state Congress chief Ambika Soni accompanied the Amethi MP Rahul Gandhi on his visit. They reached the Jolly Grant airport in Gaurikund by a government helicopter around 2 pm yesterday and started on the 10-km long trek to Lincholi where they will halt for the night, media-in-charge of the chief minister, Surendra Kumar said.
They started the journey on the last stretch of 6 km from Lincholi to Kedarnath around 6 am in the morning.
Rahul Gandhi recently returned from his 59-day sabbatical and was leading the Congress on farmers' issue. However, he did not attend the debate in Lok Sabha on Thursday. In his second speech in three days in Lok Sabha on Wednesday, he took on government on  Net Neutrality issue.