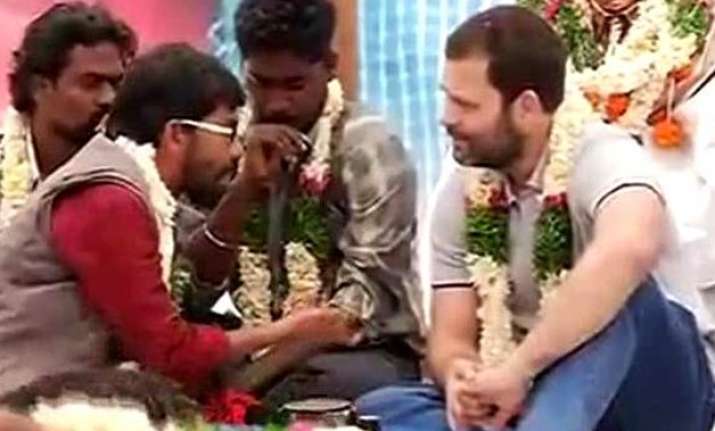 Hyderabad: Stepping up the offensive on Dalit scholar Rohith Vemula suicide issue, Congress vice-president Rahul Gandhi today commenced a day-long fast along with agitating students of Hyderabad Central University here after participating in a candle light vigil in the wee hours.
The Congress vice president spent about two hours with agitating students past midnight and participated in the candle light vigil along with 2,000 students to mark the birthday of Rohith, who would have turned 27 today.
"Rahulji is on fast," National Students Union of India (NSUI) president Roji M John said.
Rahul, who is visiting the campus for the second time, tweeted, "I am here today at the request of Rohith's friends and family, to stand with them in their fight for justice."
"A young life full of dreams and aspirations was cut short. We owe it to him, to the memory of (Mahatma) Gandhiji and to every single Indian student who dreams of an India free from prejudice and injustice," he said in another tweet.
Rohith's mother Radhika and brother Raju were also present at the protest site.
Rahul, who arrived here at 12.10 am, spoke to the agitating students, who are on a hunger strike demanding action against Vice Chancellor P Appa Rao and others responsible for Rohith's suicide.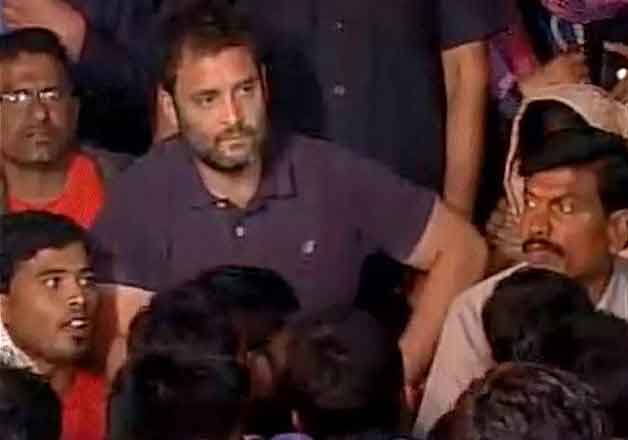 " About 2,000 students organised a candle light march in the campus on Vemula's birthday today. Students called for mass hunger strike. This hunger strike will be held in all universities of the country," John said.
Three of the students including two research scholars who were earlier suspended, sat on fast unto death demanding the fulfilment of their demands such as sacking and arresting of V-C Appa Rao Podile and sacking of Union Ministers Smrithi Irani and Bandaru Dattaretreya from the cabinet among others.
This is Rahul's second visit to Hyderabad since Vemula was found hanging in the varsity's hostel room. The Congress vice-president had visited the University on January 19 following the suicide by the Dalit scholar and met the agitating students and the family members of Vemula.
Interim VC Vipin Srivastava too goes on leave
Barely a week after Vice Chancellor P Appa Rao proceeded on indefinite leave in the wake of students' demand for his resignation, senior most professor Vipin Srivastava, who had taken over as interim vice chancellor, has also gone on leave.
According to information available late on Friday night, the next senior most professor, AM Periasamy, will perform the duties of the vice chancellor of the university till further orders.
Appa Rao, whose name figures in the first information report, had gone on leave on January 24. However, the students had also refused to accept Srivastava as the interim vice chancellor as he had headed a sub-committee of the executive council which suspended five Dalit students following an alleged clash with a leader of ABVP.
Rohith Vemula, one of the suspended students, committed suicide on January 17, triggering protests across the country with students calling for action against the vice chancellor and others responsible for the suicide.