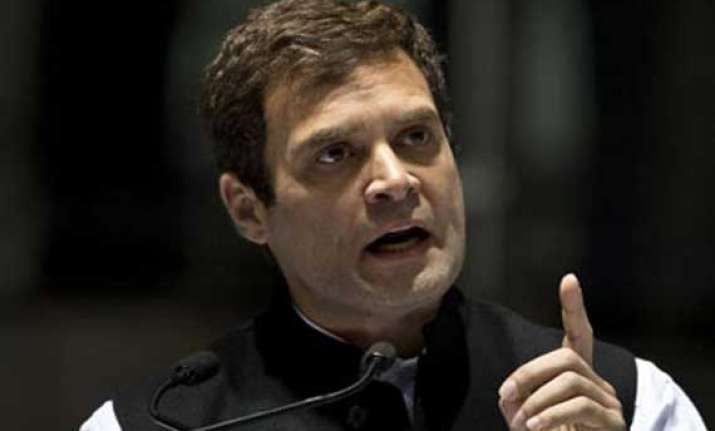 New Delhi: Congress Vice President Rahul Gandhi today told his party leaders from Haryana to put up a united face as bickering's in the state unit came to fore after the debacle in the Lok Sabha polls.  
Gandhi held an hour-long deliberation with Haryana Chief Minister Bhupinder Singh Hooda, PCC chief Ashok Tanwar, former Union Minister Kumari Selja, AICC general secretary in-charge for the state Shakeel Ahmed and senior leader from the state Chaudhary Birender Singh.
"Shun the Groupism" message was loud and clear for leaders in the deliberations during which Gandhi also reminded the Chief Minister about his responsibility to take everybody along with him as the state is set to face Assembly polls by the end of this year.
There has been a demand for change of guard in state from Hooda's detractors for quite a long time. However, party sources scotched any such possibility.
The argument given by the leaders was Hooda had been the Chief Minister for last ten years and any change of guard at this stage, when the elections are just a few months away would fuel new problems.
They said Ashok Tanwar was made the PCC chief of Haryana just in February and it would be too early to comment on his performance based on the Lok Sabha poll results, where Congress has faced a nationwide rout.  
Dissidence in the Haryana Congress had once again come to fore with Selja firing a fresh salvo at the Chief Minister in first week of June saying he should have offered to resign owing moral responsibility for the party's debacle in Haryana.
The Dalit leader, who shares good rapport with Nehru-
Gandhi family, is a known detractor of Hooda and had attacked him umpteen times in past as well.
Congress could win only one of 10 Lok Sabha seats in the state with the Chief Minister's son Dipender Hooda being the lone Congress candidate winning from Rohtak seat.  As the leadership views that any change at this hour could be counter productive, it is keen that the party puts up a united fight in the Assembly polls.
In the meeting that discussed the Congress poll strategy for Haryana where the party faces anti-incumbency of ten years, Gandhi is keen that internal dissension does not make the matters worse for the party.