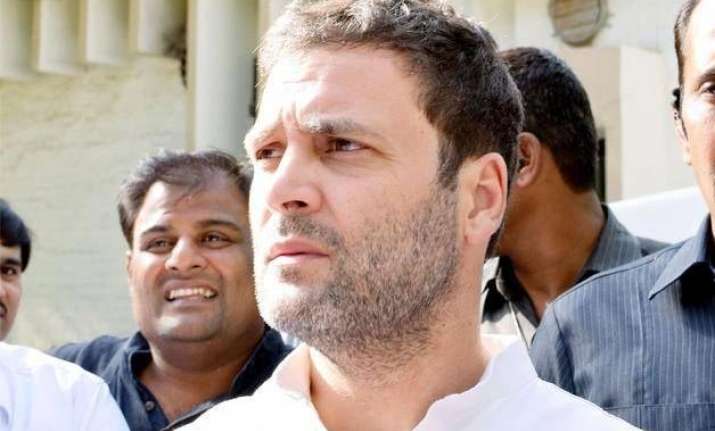 Nirmal(Telangana): Congress vice-president Rahul Gandhi on Friday undertook 'padyatra' in Adilabad district of Telangana to console families of farmers who committed suicide due to financial distress.
The Congress leader launched his walkathon 'kisan sandesh yatra' on Friday morning from Koratikal village, about four km from here.
Clad in a white kurta-pyjama, the Gandhi-scion walked along with party leaders, including Congress general secretary Digvijay Singh and top functionaries of the party's Telangana unit.
He visited the house of Velma Rajeshwar, a farmer who committed suicide on May 2 following huge crop loss.
He also met the wife and children of the farmer and consoled them.
As the family members spoke in Telugu, Uttam Kumar Reddy, president of Congress party's Telangana unit, helped Rahul in comprehending the problems faced by them.
The Congress leader also provided financial assistance of Rs.1 lakh to the family.
Accompanied by hundreds of leaders and workers, Rahul covered a distance of four km to reach Laxmanchanda village, where he met families of two farmers who committed suicide.
He also visited the house of Bandla Linganna and consoled his widow and children. Sitting on the floor with the family members of the farmer, he enquired about their problems.
Linganna's wife told the Congress leader that her husband committed suicide following huge crop loss and the resultant inability to repay Rs.5 lakh in loans he had raised from private lenders. Rahul, who gave a cheque of Rs.2 lakh to the family, advised her to ensure proper education of all her three daughters.
Rahul, who arrived here on Thursday night after landing at Nanded in neighbouring Maharashtra, will cover five villages in his 12-km padyatra. He will also interact with the farmers and visit a few agricultural fields.
The Congress vice-president, who undertook similar yatras in Punjab and Maharashtra earlier, is scheduled to address a meeting at Wadial, the last point of the padyatra.
Rahul, who was scheduled to land in Hyderabad and proceed to Nirmal, changed his schedule at the last minute.
He arrived in Nanded around 7 p.m. on Thursday and left for Nirmal by road. He reached the town around 10 p.m.
Rahul's visit, the first after formation of Telangana state, boosted the morale of the party workers. There was discernible enthusiasm in the party camp as party workers turned up in large numbers for the padyatra.
At least 200 workers from each of 119 assembly constituencies are participating in the walkathon.
The padyatra began one-and-half-hour behind schedule as the Congress leaders reached Nirmal in large number of vehicles, leading to a traffic jam.
 
Holding party flags and raising slogans, party activists accompanied Rahul. The Special Protection Group (SPG) and police personnel had a tough time in controlling the crowd as the Congress leader shook hands with the people.