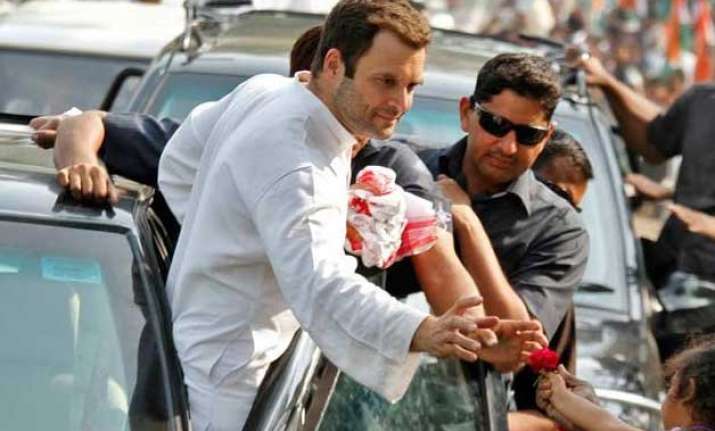 New Delhi: The NDA government said that the recent Delhi Police enquiries at the residence of Congress vice-president Rahul Gandhi were part of a routine profiling and that the process was started by the Congress government itself in 1957.
Government sources said that the same is carried out for 526 other political leaders including Congress chief Sonia Gandhi, Prime Minister Narendra Modi and BJP president Amit Shah. Modi joined the list last year whereas Shah was included this year only.
Sources added that the queries about Rahul were, actually, part of a procedure that was started in 1957 by Delhi Police at the behest of the then regime. The purpose was to maintain profiles of senior leaders living in Lutyens Zone. The proforma for collating information was later revised in 1999 seeking information under 12 sections.
ALSO READ: Delhi Police visits Rahul Gandhi's residence
Under 'Descriptive Role', police seeks personal details of a VVIP under 10 points such as dress including shoes, physical features, the VVIP's gait, moustaches/beard, birth/ special marks, colour of eye, other marks of identification etc.
The proforma, which is filled by an officer of inspector-rank, also seeks information on place of birth, education, close friends and eating habits among other details of the individual.
Sonia Gandhi was first profiled in 1998, then in October 2004 and last time in 2012. Between 2004 to 2012, her profile was updated thrice.
Likewise, former prime minister Atal Bihari Vajpayee was first profiled in 1996 and last on June 9, 2011.
Similarly, President Pranab Mukherjee was first profiled in 2001 and last in 2010, when he was part of Manmohan Singh Cabinet.
Delhi Police's special branch officers had visited Rahul's 12, Tughlaq Lane residence on March 3 to collect personal details of the leader.
Former prime minister Rajiv Gandhi, who was assassinated in a bomb blast, was identified because of the shoe he was wearing, sources said, adding that this kind of a database was maintained and updated every three-four years.
Others who were similarly profiled included senior BJP leader LK Advani, in 2011; External Affairs Minister Sushma Swaraj, in 2013; Finance Minister Arun Jaitley, in 2009; former prime ministers HD Deva Gowda and IK Gujaral, in 2011; and Home Minister Rajnath Singh in 2007.
Among those re-profiled by Delhi Police between 2011-13 included former Delhi CM Sheila Dikshit, Sonia's political secretary Ahmed Patel and former defence minister George Fernandes.