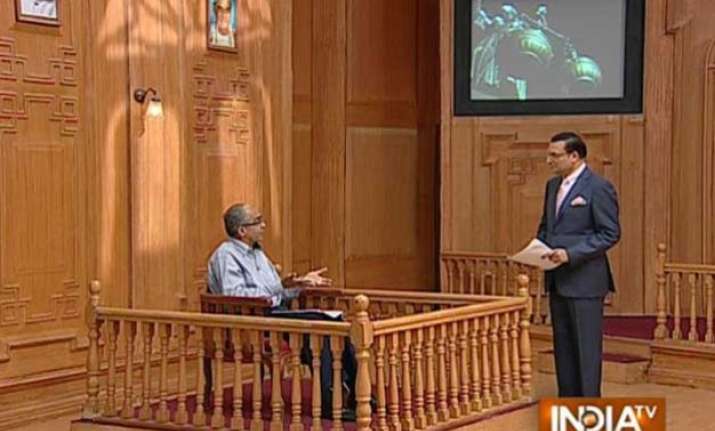 New Delh: Senior Supreme Court lawyer Prashant Bhushan has lashed out at Delhi chief minister Arvind Kejriwal saying that he will not be able to fulfill the dreams and aspirations of Delhi voters, if he continued to act undemocratically.
Replying to questions by Rajat Sharma in India TV show Aap Ki Adalat, to be telecast tonight, Prashant Bhushan said: "The way in which Arvind Kejriwal is moving, I don't think he will be able to fulfill the promises (made to Delhi voters). It's not correct if he thinks he knows all. Only if he realizes that the immoral methods he had adopted are wrong, then only he may be able to deliver. Otherwise not."
The senior SC lawyer said: "If Arvind thinks that I am acting as a puppet of Yogendra Yadav, then he is wrong. I am not anybody's puppet. I think Arvind was unhappy with me because I refused to become his puppet."
Bhushan said: " I had told him 'You have two serious defects. Either you rectify those defects or have institutional arrangements, otherwise you will face bigger dangers'".
Asked about the two serious defects of Delhi chief minister Arvind Kejriwal, Bhushan replied: " One, he always tries to have his own way, and two, he sometimes prefers to resort to immoral methods".
Asked about the "immoral methods" adopted by Kejriwal, Bhushan pointed out how during the Delhi assembly polls, "communal" posters were circulated by the party leadership in a Muslim-dominated constituency, and later it was attributed to a local AAP leader Amanatullah, who was later elected legislator.
Similarly, Bhushan alleged that a former junior engineer of Delhi Jal Board with a salary of Rs 16,000 was owning seven farmhouses, five hotels, and several apartments, but was given the AAP ticket.
"His case was forwarded to the internal Lokpal Admiral Ramdas, but how can the Admiral find out about his assets within five days. That person was given a conditional clean chit along with a warning. Candidates who were earlier with BJP, Congress and BSP, and had no ideological commitment towards AAP, were given tickets."
Bhushan recalled how he had forwarded the names of 12 AAP candidates who had dubious backgrounds during the Delhi polls. "Out of this, two lost their tickets, six candidates were given warnings and the remaining four were given clean chits."
Bhushan was asked several times by Rajat Sharma whether it was not true that the voters of Delhi now find themselves cheated since he withheld key revelations about Kejriwal's style of functioning during the assembly polls.
The SC lawyer replied: "I tried my best initially to reform the party from within, but when I found that the water level was coming above my nose, I threatened to resign and make the reasons public."
Disclosing the sequence of events that led to his removal from AAP national executive, Prashant Bhushan said, soon after the Lok Sabha poll debacle, Kejriwal was desperate to form a government in Delhi with Congress support.
"I opposed this in the PAC meeting, five members opposed, and four supported Kejriwal. Yet, he said, I am the convenor and I am going forward with my decision to take Congress support. I had a tiff with him, and I told him the party cannot be run like this.  The matter was referred to the national executive, where majority of the members opposed seeking Congress support.  And, yet a letter was sent to Delhi Lt. Governor asking him not to dissolve the assembly. That too, at a time, when a petition was before the Supreme Court seeking to dissolve the Delhi assembly.
"The efforts to form government with the help of Congress MLAs continued even till November, when 10 days before the House was dissolved. He (Kejriwal) asked Nikhil Dey to contact Congress leader Rahul Gandhi to seek Congress support, but Nikhil Dey refused."
Bhushan rejected Kejriwal's charges that he and Yogendra Yadav were trying to ensure that the AAP was defeated in the Delhi polls.
"When I saw that Arvind was resorting to immoral methods, one by one, first by circulating SMS that the AVAM (AAP volunteers action manch) was in league with BJP, then by circulating communal posters, and then an underground social campaign saying 'Modi for PM, Kejriwal for CM'. What does this show? A party that was challenging Modi's leadership was surrendering to Modi.
"Similarly, when I objected to selection of candidates with dubious backgrounds, I had threatened that I would resign and make the reasons public. A meeting of AAP leaders was called at my home, where I made it clear that if the party wins elections by fielding such tainted candidates, then our party will sink after the elections. Because, then the party may have to go in for bigger compromises".
"It was in this context that I said, it would be preferable if the party loses even by fielding honest candidates.  My statement was twisted to say that I tried to get my own party defeated. Had I wanted to defeat my party, I could have called a press conference, announced my resignation and made public the reasons why I was resigning."
On his father Shanti Bhushan expressing his preference for BJP chief ministerial candidate Kiran Bedi, Prashant Bhushan said: "That was his personal opinion. I had dissociated myself from my father's statement immediately."
Asked whether he was disheartened over his removal from party leadership, Bhushan said: "It's not important what happened to me, it's very important what has happened to our party. The feelings of millions of young men and women, who toiled for the party, matter. They now feel that they have been cheated by Arvind Kejriwal and his coterie."
Prashant Bhushan in Rajat Sharma's show Aap Ki Adalat will be telecast on India TV tonight at 10 pm, and will be repeated on Sunday(April 5) at 10 am and 10 pm