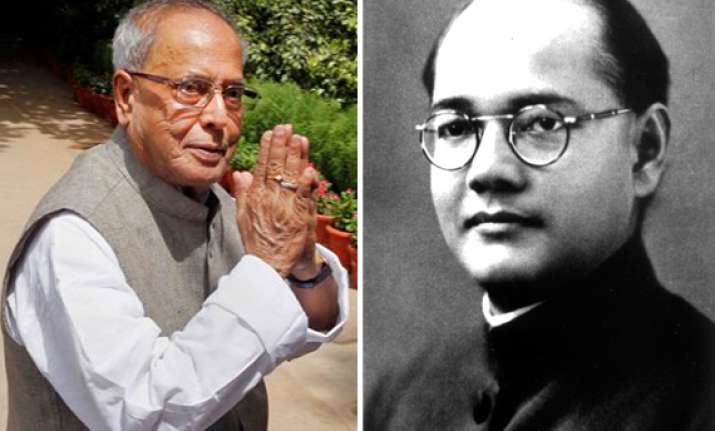 New Delhi, Jun 26: UPA's presidential nominee Pranab Mukherjee was engaged in an elaborate "cover-up" on the last days of Azad Hind Fauj founder and national leader Subhas Chandra Bose, alleges a soon-to-be-published book.
According to a 'Times Of India' report, the book Penned by former journalist Anuj Dhar, dismisses the official version that Bose died in an air-crash in Taiwan in 1945.
The book, India's Biggest Cover-Up, is based on records declassified by the US, British and Indian authorities and several documents that continue to be kept secret over 65 years after the incident.
Dhar says that Mukherjee, in his capacity as the foreign minister, went the extra mile to support the air-crash theory despite evidence negating it.
Referring to an incident in 1996, Dhar says that the then joint secretary (JS) in the ministry of external affairs suggested in a secret note that India should issue a demarche to the Russian Federation that they should conduct a search for any evidence about Bose in the KGB archives.
The book says, Mukherjee saw this note and directed foreign secretary Salman Haider to meet the JS.
After this meeting, the JS forgot about the demarche and became increasingly cynical and eventually noted that to seek access to the KGB archive would harm Indo-Russian relations.
"Mukherjee remains India's foremost proponent of the Bose died in Taiwan theory,'' he writes.
Dhar also claims that in 1994 the MEA in response to a top secret home ministry query about the Japanese government's confirmation of Bose's death by way of furnishing a proper death certificate replied in negative since the Japanese records were obviously fake.
A decade later, Mukherjee was described in the Justice Mukherjee Commission of inquiry report as one of the seven witnesses who had testified before it in favour of the story of Bose's death.
Ironically, Mukherjee returned to power in 2004, and then sat in judgment on the Commission report with his other Cabinet colleagues, rejecting the report's conclusions.
The author believes that there is enough circumstantial evidence to show that Bose was possibly in Russia after the crash, and between 1945 and 1990 the Indian government did not bother to ask the Russian authorities about it.
When asked what he believed actually happened if Bose did not die in 1945, Dhar said, "There is some evidence to suggest he died in Faizabad but the question can only be incontestably settled when government undertakes comprehensive declassification especially of those documents held by intelligence agencies."
The book is likely to hit the stands in July.