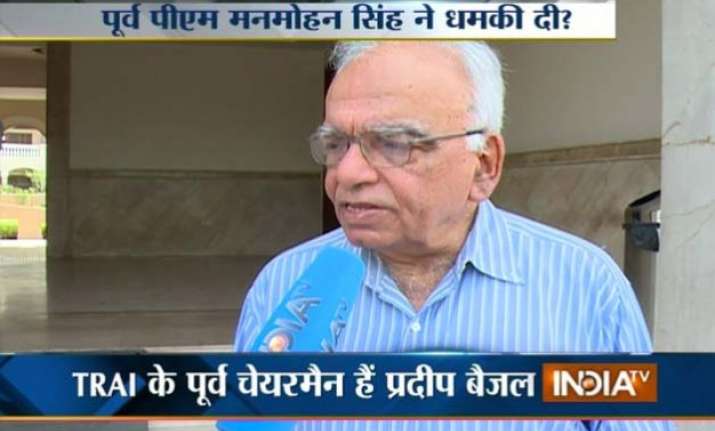 New Delhi: Former Telecom Regulatory Authority of India (TRAI) chairman Pradip Baijal has made serious allegations against former telecom mister Dayanidhi Maran and said that he had warned then Prime Minister Manmohan Singh against Maran.
In his book 'The Complete Story of Indian Reforms: 2G, Power and Private Enterprise - A Practitioner's Diary', Baijal has also alleged that Manmohan Singh warned him that he would be harmed if he didn't cooperate in the 2G case.
In an exclusive interview with India TV, Baijal said that he has not made any 'revelation' in his book as all the information was already in public domain.
On the reports that Maran allegedly instructed Baijal not to submit the Unified Service Licensing (USL) recommendations of the previous NDA government, Baijal told India TV, "He asked me not to submit USL report. Cabinet had told us that give the report after implementation of UASL (Unified Access Services License) but I told them that it was not possible. I said if I don't submit the USL reports, there will be such a big scam that no one would be able to handle it."
"There is nothing I said is not available in the media. Media knows that during UPA tenure CBI enquiries were conducted and nothing was found against me, because there was nothing (to be found)," Baijal told India TV reporter Sourav Shukla.
"Probes against me were done based on bogus documents which I have proved in my book," he added.
In the book, Baijal claimed that he cautioned Manmohan Singh against Dayanidhi Maran and possible conflict of interest on his appointment as Maran was a broadcaster (he owns Sun TV). He wrote, "The PM dismissed the concerns with the specious argument that there was no conflict of interest since TRAI was an independent regulator and I&B and telecom were separate ministries."
Maran served as telecom minister in UPA-1 for three years.
"Singh appointed two committees in his office - one headed by him and the other a subordinate committee, headed by principal secretary to PM. Maran protested against these committees, and directed his officers not to attend them," he further wrote.