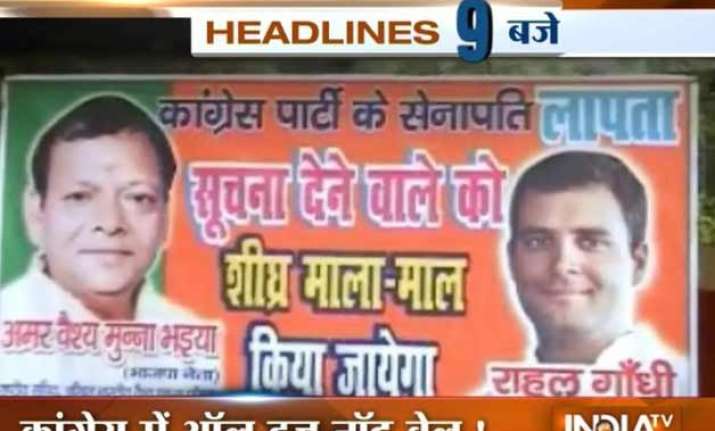 New Delhi: In Allahabad, posters reading 'Congress ke senapati laa-pata' have been put up announcing a big reward for anyone providing information about party vice-president Rahul Gandhi's whereabouts.
The posters, having big images of Rahul, also read: 'Suchna dene waale ko maalamaal kiya jaayega' (the person giving information will get a huge reward).
ALSO READ: Rahul Gandhi on leave before Budget Session
The posters have also been put up near the district Congress office and outside Anand Bhavan, the ancestral house of the Nehru-Gandhi family.
These hoarding are said to be the handiwork of local BJP leaders.
This has come a day after a party worker claimed that he spotted Rahul spending time lonely in the Uttarakhand hills. The leader also tweeted photos of Rahul, believed to be taken on Tuesday evening, showing him camping at an unidentified location in the northern hilly state.
ALSO READ: Rahul Gandhi is in Uttarakhand, claims a Congress worker
Meanwhile, BJP MP and renowned Bhojpuri singer Manoj Tiwari, who was in Varanasi yesterday, took the opportunity to mock Rahul.
"He is an unmarried child. Let him roam around in Bangkok and Pataya. Why are you making such an issue about it. He has all the right to go there," he said.
ALSO READ: Rahul's absence mocked on Twitter with #WhereIsRahul
The timing of Rahul's disappearance just ahead of the Budget Session of the Parliament came as a huge embarrassment for the party with several leaders refusing to take questions on the matter.