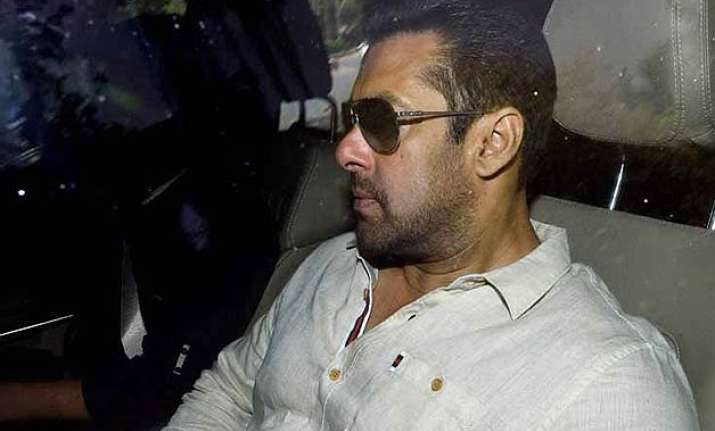 Mumbai:  Salman Khan's tweets defending 1993 Mumbai blasts convict Yakub Memon today sparked a flurry of diverse reactions, with parties like BJP expressing outrage while some others including Left opposed capital punishment.  
Congress said the Supreme Court verdict should be respected and all must "follow the course of the law" while Shiv Sena said Salman's remarks should be ignored.
BJP spokesperson Shaina NC said, "No opinion can absolve a conspirator or a mastermind. Supreme Court gave verdict on hardcore evidence and none of us are in position to undermine the verdict given by the apex court of the country."
Party MP from the city Kirit Somaiya demanded that Salman should apologise to the country and said he would raise the issue in Parliament.
Uttar Pradesh BJP president Laxmikant Bajpai alleged Salman's remarks tantamount to "abetting terror" and "rubbing salt" on the wounds of those who lost their family members in the 1993 Mumbai serial blasts.  
Congress leader Digvijay Singh said the court's decision has come and "we must all follow the course of the law".  "Terrorism has no caste or religion or sect. Whoever is involved in terrorism- whether Hindu, Muslim, Sikh or Christian must be dealt with severity. I do not know whether Yakub Memon surrended himself or was arrested. But the court's decision has come, and we must all follow the course of the law," he said.
He, however, questioned BJP government for supporting the hanging of Yakub Memon while "asking agencies to proceed slowly in bomb blast cases like Malegaon, Modasa, Samjhauta express, Ajmer Dargah Sharif involving people from the Sangh".
Sachin Ahir, chief of Mumbai NCP, said, "As a celebrity Salman has freedom of expression, but...he should also take care of national integrity and respect court orders."
JD(U) leader K C Tygai noted that Khan is also facing trial in court. "I condemn all caste and religion based allegations against the judiciary. I am of the opinion that irrespective of caste and religion, Yakub Memon, murderers of Mr Gandhi and the murderer of Beant Singh- all must be hanged irrespective of caste, religion, language and the region."
Shiv Sena president Uddhav Thackeray said such remarks should not be given much importance.  "Nothing will move forward if we start thinking and pondering about tweets of individuals....It would be better to overlook such remarks because if tweets start deciding judicial verdicts then what is the point of going to the Supreme Court?" he said to a query on the issue.
In a series of tweets posted late last night, Salman said, "Don't hang brother (Yakub) hang tha lomdi (fox— referring to Yakub's fugitive brother Tiger) who ran away.
"1 innocent man killed is killing the humanity," the actor said, adding "Get tiger hang him. Parade him not his brother."
Salman has a whopping 1.31 crore followers on Twitter and his meaage was retweeted immediately.  
Salman's friend and Congress leader Milind Deora tried to do some damage control. He tweeted that he had spoken to the actor last night and today and Salman "doesn't believe Yakub Memon isn't guilty & was only spotlighting YM's brother's cowardice."
But BJP MP Somaiya reacted sharply with a tweet: "Salman Khan feels Court Guilty & Yakub Memon Nirdosh (innocent)? I will raise Salman Khan Tweet issue tomorrow in Loksabha ....  (sic) Salman Khan ne Desh ki Mafi magni chahiye (Salman should apologise to the country)."
Attacking Salman, BJP's Mumbai chief Ashish Shelar met Maharashtra Governor Vidyasagar Rao and submitted a letter requesting cancellation of bail granted to Salman by the Bombay High Court in a hit and run case "for supporting a convict" "Very disappointing to see Salman Khan ask for release of Yakub Memon. His (Salman's) bail should be cancelled on the basis of the support for crime," he said in a tweet.  
Salman, who was sentenced to five years in jail by the Sessions Court earlier this year in the hit-and-run case in which one person died, was later granted bail by the Bombay High Court.
"The verdict in Yakub Menon's case has the approval of the apex court. Khan is adored by millions of fans across the country. He must not utter anything that amounts to abetting terror and rubbing salt into the wounds of those who lost their near and dear ones in the explosions", Uttar Pradesh BJP president Laxmikant Bajpai told reporters at a news conference in Allahabad.
At a separate press conference, Union Minister of State for HRD Ram Shankar Katheria, also slammed the superstar for "questioning the wisdom of the judiciary, including the highest judicial body in the country".
Party MP from Kaushambi in UP Vinod Sonekar said: "The apex court must take suo motu cognizance of the tweets which are an act of evident disrespect to the judiciary and take suitable action."
After his curative petition against the death sentence awarded by a special TADA court was dismissed by the Supreme Court earlier this week, Yakub submitted a mercy petition to the Maharashtra Governor.The President had earlier rejected his mercy petition.