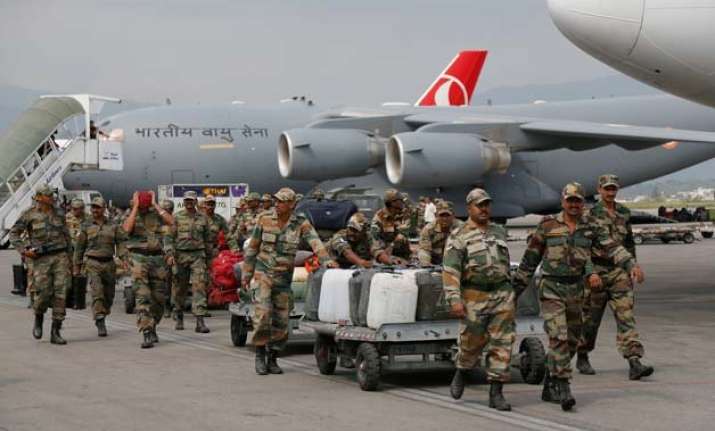 New Delhi: Political leaders cutting across the party lines today hailed Prime Minister Narendra Modi's efforts to rescue people hit by massive earthquake in Nepal and North Indian states of Bihar and Uttar Pradesh. 
Giving details of India's mammoth rescue and relief exercise in the neighbouring country, Union Home Minister Rajnath Singh said 10 NDRF teams are already in Kathmandu and six more on their way. An engineering task force and 18 medical units have also been rushed.
"One Unmanned Aerial Vehicle is also on the way," he said, adding that an inter-ministerial team headed by a top Home Ministry official was being sent along with 250 high frequency wireless sets to coordinate rescue and relief work.
Communication experts have also been rushed to Nepal to restore the broken communication system in the country.
India has already sent 22 tonnes of food, two tonnes of medical supplies, 50 tonnes of water besides large numbers of blankets and other relief material. 
Singh also lauded Modi and conceded that he learnt about the tragedy from the Prime Minister himself. "As Home Minister, I should have been aware but it is he who informed me."
"Today, the entire House joined together in expressing solidarity to the people affected in Nepal earthquake," said Venkaiah Naidu:
"All teams are there. The operation is going on very heavily on the ground," said Kiren Rijiju:
Meanwhile, the Prime Minister praised the armed forces, NDRF teams and others for working round-the-clock in the Himalayan nation. 
"We must thank our armed forces, NDRF teams, doctors and all those volunteers who are overcoming every obstacle to restore normalcy in Nepal. If we want to thank anyone, it should be the 125 crore people of India who have made Nepal's pain their own and extended all help," he said. 
"We salute the resilience of our sisters and brothers in Nepal and parts of India, for their courage in the face of disaster. The immense co-operation between the Centre and the States is a major asset in times like these. A big thanks to all state governments," he said further. 
"Mention must be made of the media. They are bravely covering the disaster from the ground. Thanks! We owe a big thanks to the enthusiastic youngsters who are mobilising contributions for relief work be it cash, resources and medicines etc. To all those saying 'Thank You PM', I appreciate the sentiment...real thanks should be to our great culture, which teaches us 'seva parmo dharma'," he added.
72 dead in India 
Responding to an impromptu debate on the devastating earthquake in Lok Sabha, Singh said the earthquake toll in India has reached 72 with 56 deaths reported in Bihar, 12 in UP, three in West Bengal and one in Rajasthan.
The death toll from Nepal's earthquake soared past 3,700 Monday, and how much higher it would rise depended largely on the condition of vulnerable mountain villages that rescue workers were still struggling to reach two days after the disaster.
Reports received so far by the government and aid groups suggest that many communities perched on mountainsides are devastated or struggling to cope. Udav Prashad Timalsina, the top official for the Gorkha district, near the epicenter of Saturday's quake, said he was in desperate need of help.
"There are people who are not getting food and shelter. I've had reports of villages where 70 percent of the houses have been destroyed," he said.
Choppers rescue climbers stranded on Mt Everest
Helicopters were deployed today to rescue climbers still stranded high on Mount Everest after an earthquake-triggered avalanche killed at least 18 people on the world's highest peak, officials said. Three helicopters were sent for about 150 climbers trapped at Camps One and Two after Saturday's avalanche sent down slabs of ice and snow, cutting them off from base camp below, the Nepalese officials said. The climbers, who were not thought to be seriously injured, were being brought down to base camp rather than all the way down the mountain, tourism department said.