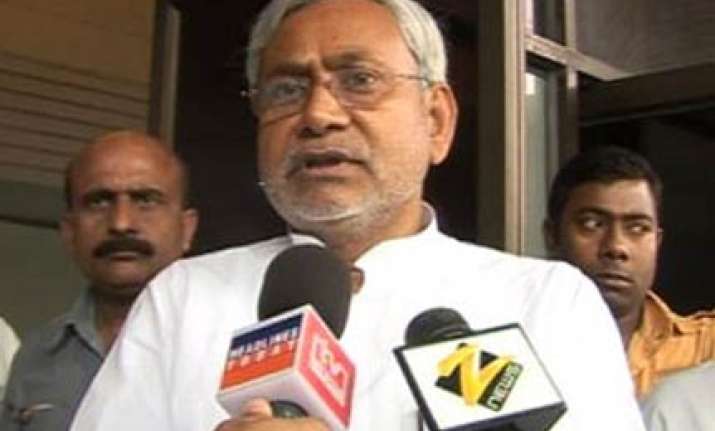 Paroo (Bihar), Oct 18 : In the continuing war of words between Congress leaders and Bihar government, Chief Minister Nitish Kumar today accused Prime Minister Manmohan Singh of trying to shift the blame on the state government for "failure" of central agencies on the fund utilisation issue.
"It is unfortunate that a person like Singh is placing distorted facts before the people and seeking to blame the NDA government for the failure of central agencies in utilisation of central assistance," he told an election meeting here.
Kumar said the erstwhile NDA Government led by Atal Bihari Vajpayee had in 2002 decided to provide a special package of Rs 1000 crore under the Samvikas Yojana every year to compensate the losses incurred by Bihar after the mineral-rich plateau region went to Jharkhand.
He said that the provisions to this effect was made in the Bihar Reorganisation Act (BRA) and the Planning Commission was asked to implement the schemes through central agencies. Bihar Government had no hand in it, he said.
CZC r GEN NAT .
Castigating the Congress-led UPA Government for doing "injustice" to Bihar and creating "hurdles" in implementation of major thermal power projects, Kumar said there were several proposals worth Rs 1.40 lakh crore pending because of the Centre's "apathy".
Stating that most of the proposals related to setting up thermal power units in Bihar, Kumar alleged that the Centre had not not provided required coal linkages for the purpose.
"Given another chance, I would ensure that electricity reaches every household in Bihar in the next five years," he said.
Kumar held the Congress and the RJD responsible for the state's backwardness and claimed that both the parties would join hands after elections.
The chief minister further accused the Congress and the Prime Minister of ignoring the demand for according special status to Bihar and alleged that whenever Congress came to power at the Centre, the prices of essential commodities skyrocket and the federal structure weakened.PTI