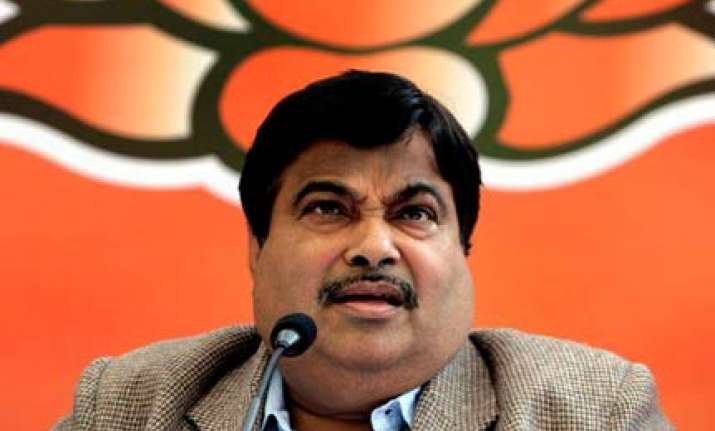 Mumbai, Nov 18: BJP president Nitin Gadkari today asked Prime Minister Manmohan Singh to break his silence on the Commonwealth Games (CWG) scam and 2G Spectrum allocation issue, challenging him to accept the Opposition demand for a Joint Parliamentary Probe (JPC).
Gadkari told a press conference that his party was not demanding resignation of the Prime Minister but merely wanted him not to remain silent anymore on important issues related to the scams.
"He should accept the demand for a JPC and suggest measures to recover losses and fix responsibility," he said.
"Congress has broken all records of corruption in the recent past which was painful for the country. People of this country have the right to demand answers from the Prime Minister's Office (PMO)," he said.
Gadkari said a CBI enquiry into the CWG scam was not enough. "CBI lacks the trust and authority to punish bigwigs like Suresh Kalmadi, Delhi Chief Minister Sheila Dixit and Union Ministers Jaipal Reddy and M S Gill, who were the political leadership involved," the BJP president said.
He demanded to know why no criminal action has been taken so far against Prasar Bharati CEO B S Lalli, who allegedly overruled the objections by Finance department and gave Rs 246 crore telecast rights of the Games to an illegal entity which produced a fake registration number and had no service tax number.
Gadkari also charged that MGF, which tied up with Dubai-based EMAAR to construct the Games Village, had benefited because of its links with Kanishka Singh, a close aide of Congress general secretary Rahul Gandhi.
"Owner of MGF late Ved Prakash Gupta is Kanishka's grandfather and his father late S K Singh was one of the promoters and shareholders. At whose instance the DDA paid a bailout package for the international zone. Invoking EMAAR-MGF's bank guarantee for not fulfilling the responsibility is only an eye-wash to absolve Kanishka Singh and his family," he alleged, while listing out a detailed ten-point questionnaire to the Prime Minister.
The BJP president demanded the Prime Minister to give an explanation about the rationale of the steep escalation in the budgetary provisions for the CWG overlays (temporary fittings and fixtures).
"The sports minister has admitted in the Rajya Sabha that there was cost escalations in the CWG projects because the preliminary estimates were approved on basis of incomplete sceptical information and all the estimates of various CWG related projects were approved by the union cabinet. "Isn't it an admission of criminal negligence on part of the government which you are heading?" he asked.
Gadkari said the total earnings have fallen short of the estimated income from the Games and wondered how the government is going to realise the huge balance. PTI