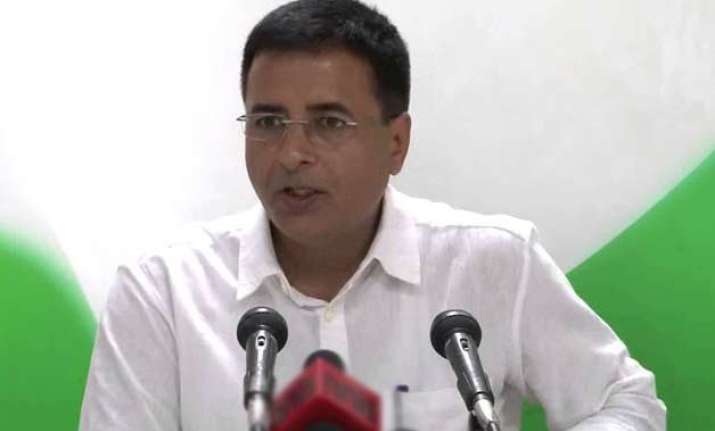 New Delhi: As Prime Minister Narendra Modi began his China visit, Congress today accused the government of compromising the country's interests by reducing defence preparedness and allowing freer access to Chinese investments.
The opposition party also questioned the Prime Minister whether he would raise strongly with the Chinese leadership the issue of wrong depiction of Indian map which excluded Jammu and Kashmir and Arunachal Pradesh by state-run CCTV.
Congress has several fundamental which need to be addressed by the government "on priority", party spokesman Randeep Singh Surjewala told reporters.
He said in 2013, the UPA government had announced the formation of the Mountain Strike Corps (MSC), a 90,000 strong Army battalion specifically to prevent intrusion by Chinese troops, at a cost of Rs.64,478 cr.
"However just three weeks ahead of the PM's visit to China, the Defence Ministry has reduced the sanctioned strength of this battalion by 50 per cent. The official reason given was a severe fund shortage," he claimed
The Congress spokesman sought to know whether country's defence preparedness will be compromised by this decision and whether there is a "shifting of poles" qua strategic decision?
Surjewala also brought to the notice of the Prime Minister that China has already committed over USD 46 billion of investment in Pakistan, including in Pakistan Occupied Kashmir. These investments include trains, highways, military equipment and ports.
"Does it not interfere with India's sovereign claim over the territory and whether it amounts to balancing out India in geo-political arena," he asked.
Noting that just days before the PM's visit, BJP President Amit Shah had cancelled his scheduled meeting with the Tibetan leader the Dalai Lama, Surjewala asked, "Does it mean re-shifting of goal post on part of the Government?"•
He said stapled visas to people from Arunachal Pradesh continue to be a major issue of concern. He recalled that last year, Kiren Rijiju was reportedly told not to attend the banquet hosted by Prime Minister in honour of the visiting Chinese President.
The repeated incursion by Chinese army into Indian territory including Ladakh have always remained a source of major flashpoint between the two countries, the Congress spokesman said.
China's plan to build multiple dams on Bramhaputra and its impact on Assam remain an open issue even today, Surjewala said.
Turning to trade issues, Surjewala said at present there is a 300 per cent trade imbalance between India and China.
Noting that trade deficit between China and India remains a core area of concern, he said this could be reduced only in two ways:-
Either India convinces China to give greater market access for Indian companies, especially in pharmaceuticals and Information Technology, which Chinese government has repeatedly denied or Chinese investments come into India via the planned Industrial Parks subject to adequate security clearances.
He said the party understands that the Prime Minister is determined to finalise USD 10 billion of Chinese investment to build Chinese style mega industrial parks in India, possibly in Gujarat and Maharashtra. This is proposed to be done under the 2013 Industrial Park Agreement between both the countries.
The Congress leader stressed that during the UPA tenure owing to certain historical geo-political and strategic reasons - most Chinese investment was cleared after careful scrutiny by security/intelligence agencies and there was "reluctance" on part of the Chinese to invest under the provisions of the 2013 agreement.
"If reports are to be believed, Chinese investors want an absolute assurance from the PM that their investment will not be subjected to any government scrutiny," he said.
In this regard, he said it must be noted that just last week, the Union Home Ministry announced that in order to support "Make in India", security clearances for investments will now be given in under 30 days, while the earlier time limit was 90 days.
"Congress wants the Government to tell the people in clear terms if the security clearances are not being compromised with? Also, we would want to flag the issue of security concerns being over ridden by business concerns and demand that the Government comes out clear on it," he added.