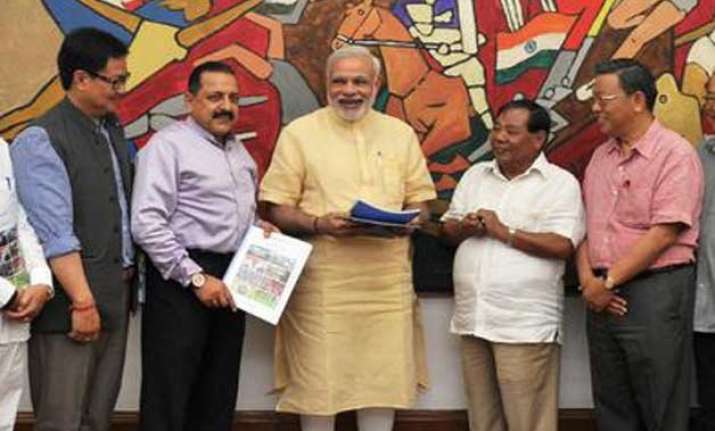 New Delhi: An all-party delegation of MPs from Northeast India met Prime Minister Narendra Modi today and handed over a memorandum to him on various development issues pertaining to the region.
The Prime Minister, who is keen on development of northeastern region, gave a patient hearing to the delegation, led by former Lok Sabha Speaker P A Sangma. The memorandum described various potential projects which could be taken up in each of the eight northeastern states in the near future.
It broadly referred to a '10-point action agenda' envisaging strengthening of institutional frameworks, maintaining peace to achieve prosperity, enabling growth through road, rail and aviation connectivity, strengthening power generation and transmission, managing natural resources, empowering northeast youth and creating jobs through industry entrepreneurship and tourism.
Minister for Development of Northeastern Region (DoNER) Jitendra Singh, who was also present during the meeting, said that the development of northeast is on high priority for the present government.
He referred to the Prime Minister's recent visits to the northeast during which he inaugurated the first-ever rail link to Meghalaya and also declared the launch of high power hydro-electric projects.
Recognising the aspirations of the youth of Northeast, Modi has also announced a sports university for Manipur and six agricultural colleges, Singh said.
Minister of State for Home Affairs Kiren Rijiju and Members of Parliament Neiphiu Rio, P D Rai, Hishey Lachungpa, Kamakhya Prasad Tasa, Shankar Prasad Dutta and C L Ruala were part of the delegation.