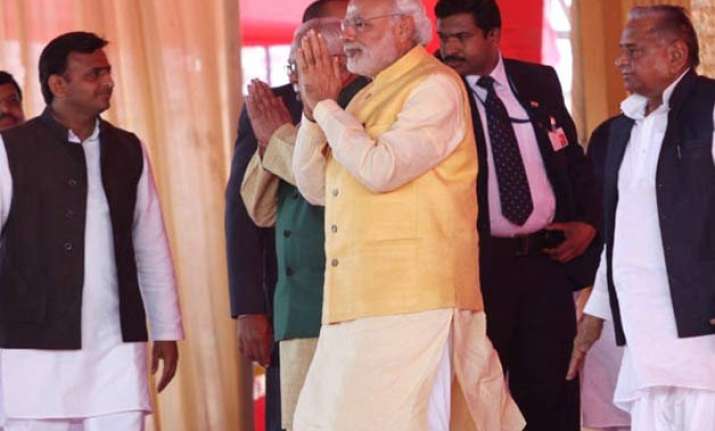 New Delhi: Prime Minister Narendra Modi, superstar actor Amitabh Bachchan on Saturday attended pre-wedding ceremony of Samajwadi Party supremo Mulayam Singh Yadav's grandnephew in n Saifai on Saturday. Mulayam Singh had personally invited Modi for the ceremony.
Mulayam's grandnephew Tej Pratap is marrying Lalu Prasad youngest daughter, Raj Laxmi. The wedding is seen to further cement the strong ties between the two political families.
A staggering 1,00,000 invites have been sent out for the wedding ceremony of Tej Pratap Singh Yadav, Lok Sabha member from Mainpuri, who will marry Raj Laxmi, on February 26 in New Delhi.
Although the Prime Minister was there for a short period, he stole the show at the tilak ceremony. SP leaders were surprised to see party workers and supporters, majority of them from Saifai, cheering and clapping for as long as Modi was on stage. Mulayam, Lalu as well as the women in the Yadav family took turns to get photos clicked with Modi.
Modi, who reached the venue at 10.45 am along with Uttar Pradesh Governor Ram Naik, was received by Lalu and Mulayam. Tej Pratap said no politics should be seen in the Prime Minister's visit.
"There is no politics in his visit. He was extended an invitation. We are grateful to him for visiting us and give his blessings. The opposition to him is issue based and not the personal," he said.
Mulayam and Lalu have criticised Modi many times in the past but all was forgotten together with the three leaders happily posing for pictures and shaking hands.
The Prime Minister, who was seated between Lalu and Mulayam posed with family members including children of UP Chief Minister Akhilesh Yadav and showered flower petals on the bridegroom.
During the ceremony, actor Amitabh Bachchan also got the crowd excited but he left soon after. Union Home Minister Rajnath Singh and JD(U) president Sharad Yadav also came for the ceremony.
While the Saifai show was expected to be a star-studded affair with political and industry honchos standing in attendance, it was the surprise appearance of controversial BJP MP Sakshi Maharaj.
Arrangements had been made for over 3,000 VIPs including SP ministers and MLAs and multiple giant kitchens have been set up to cook food for them. For convenience of those attending the ceremony, 500 luxurious Swiss cottages have been erected.
At the main venue, 10 giant LED screens have been put up for live coverage of the 'tilak'. A special band from Varanasi, which performed earlier at Chief Minister Akhilesh Yadav and MP Dharmendra Yadav's wedding was an attraction of the ceremony.
The band prepared a special tune for the ceremony. A grand pandal bearing a festive look with a decked up stage was set up where Lalu performed the tilak.