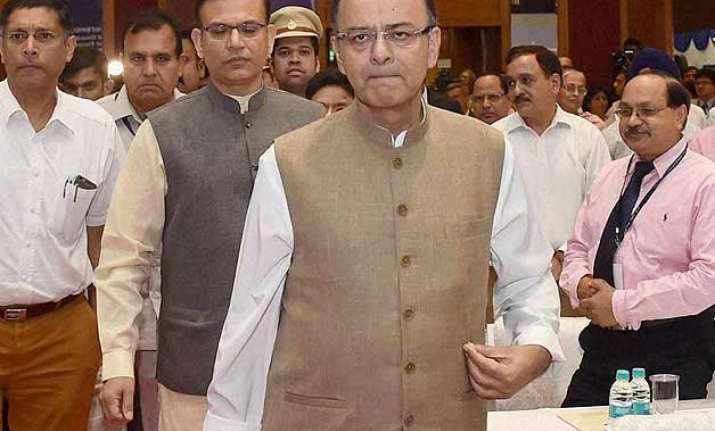 New Delhi:  Amid a bloodbath in the markets, Prime Minister Narendra Modi on Monday reviewed the situation and favoured pushing ahead with the reforms agenda and taking more steps to strengthen the economy.
Finance minister Arun Jaitley told reporters that the Prime Minister took stock of equity and currency markets, and was of the opinion that "our economy is stable" but more needed to be done.
The review of the economy at the highest level came against the backdrop of the benchmark sensex plunging by 1,624.51 points to 25,741.56 — its lowest level since August 2014 — and nearly Rs 7 lakh crore getting wiped out from the investors' wealth.
Besides, the rupee also fell the most in 23 months to hit two-year low at 66.64 against the US dollar.
"PM is of the opinion that in order to further strengthen our economy, we should take more steps," Jaitley said, adding there will be no change in the strategy and the initiative to attract investors would continue.
He said further discussion will be held with private and public partners to take "measures to attract investors and use the situation as an opportunity".
The Prime Minister, he said, is keen that the present global crisis should be converted into an opportunity for India.
"We are not (offering) any packages as of now as our internal fundamentals like industrial production, capital and public expenditure have improved," Jaitley said, adding normal reforms in the pipeline will continue.
He said that the global factors are transient in nature and all global markets have been adversely impacted.
Stating that the government and the regulators were keenly monitoring global developments, he said, "our parameters are strong. Our growth will be maintained."
Minister of state for finance Jayant Sinha said the PM discussed ways to push forward reforms agenda and hoped India will continue to be an attractive investment destination.
Sinha also said the markets were expected to be volatile for some time.