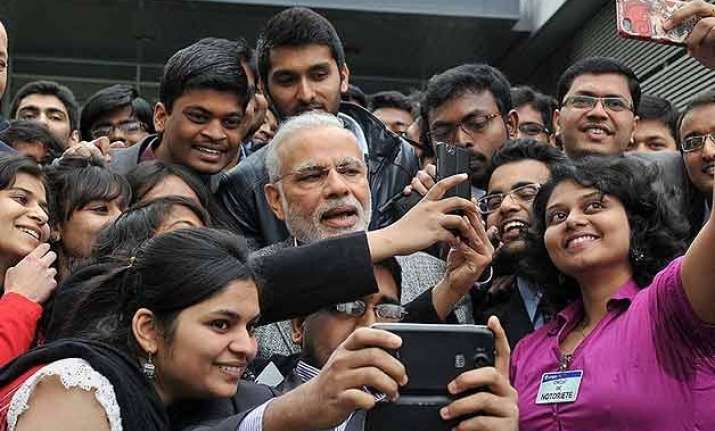 "Acche din aa rahe hain," (good days are coming), Prime Minister Narendra Modi's historic tweet after winning last year's Lok Sabha elections was the most retweeted in India in 2014
 One of the key strengths of the energetic and efficient Narendra Modi campaign for the 2014 general elections was the use of offbeat techniques that no other party could match. He foresaw the growing might of social media much before his political rivals and skilfully used it to his advantage. The use of social media that includes Twitter, Facebook and Youtube allowed Modi to reach a whole new group of younger urban voters who otherwise were inaccessible to the traditional politicians.
Even after assuming the top job, the Prime Minister continues to be accessible. A batch of nurses in Iraq tweeted to the PM's account, asking to be rescued. The PM responded swiftly with results visible to all.
Even Prime Minister aptly uses the social media platform to connect with the masses of the country he visits. Opening a new account on Chinese microblogging site Weibo and his subsequent selfie with Chinese Premiere Li Keqiang was a masterstroke.
To keep the citizens in loop, the government launched mygov.in in July last year for insights on government issues. The website has more than 9 lakh registrations till now. The logo of Swacch Bharat Abhiyaan was chosen form one of the entries here. The campaign that saw politicians and bollywood star holding brooms to clean up and posting images on their social media account to push the cause further.
The Prime Minister is now active on almost every popular social media platform including Facebook, Twitter, Instagram, YouTube, StumbleUpon, Tumblr, Flickr, Pinterest and Linked In, and on messaging service Viber. His 'Mann Ki Baat' speeches are also available on SoundCloud.
The Prime Minister has more than 28 million likes on his facebook page and over 12 million followers, only second to US president Obama on micro blogging site twitter and given his to knack for staying connected, it will only grow from here.