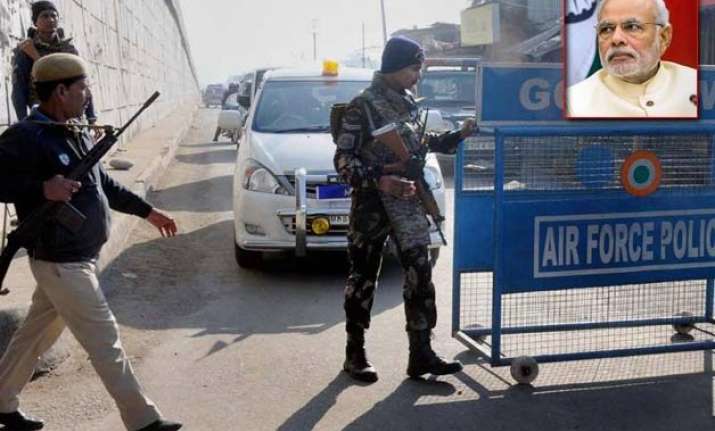 Chandigarh/Pathankot: Prime Minister Narendra Modi will be visiting the Pathankot Air Base station on Saturday to take stock of the security situation after the terrorist attack that left seven security personnel dead and 20 others injured.
He is likely to arrive in Pathankot by 11am.
During his visit, which comes exactly one week after the pre-dawn attack on the frontline air base by the terrorists, Modi is likely to meet Indian Air Force (IAF) personnel at the base along with other troops in the area.
Police sources in Chandigarh said that tight security arrangements were being made for the prime minister's visit.
PM Modi's visit holds significance in the midst speculations that the Foreign Secretary-level talks between India and Pakistan could be called off by New Delhi in the wake of the attack.
The Government of India has put the ball in Pakistan's court, saying the future course of action would be decided after Islamabad's response to actionable intelligence provided with regard to the fidayeen strike.
Seven security personnel were killed in the attack early on January 2 morning on the Pathankot Indian Air Force station by six terrorists who, crossed over from Pakistan. All the six terrorists were killed by security forces later.
Ajit Doval lauds Punjab police role
National Security Advisor (NSA) Ajit Doval called up Punjab Deputy Chief Minister Sukhbir Singh Badal on Friday and lauded the prompt role of the Punjab Police in providing timely inputs regarding the terrorist attack.
"The NSA lauded the most effective and commendable Punjab response to a most difficult challenge thrown at the country by terrorists at Pathankot," a Punjab government spokesman, quoting Doval's conversation with Badal, said here.
Sources said that Doval appreciated the response of the Punjab government, especially of the Punjab Police, "whose prompt inputs and zero-time coordination with the central forces" had helped in making counter arrangements and save critical assets of the air base, including fighter aircraft and attack helicopters.
Badal told Doval that the Pathankot, and the terrorist attack on Dinanagar town in Gurdaspur district in July last year, should be seen as "acts of disguised foreign aggression".
"In Punjab, we have been fighting the nation's war carried out by our enemies through proxy means. But we must regard it as acts of war and our response needs to be firm not in just words but in the form of better and professional preparedness and willing to take the enemy on," Badal said.
He emphasized on the need to strengthen the Border Security Force (BSF) strength in the Punjab sector to prevent any infiltration from Pakistan side.
Punjab shares a 553-km long international border with Pakistan.
With Agency Inputs