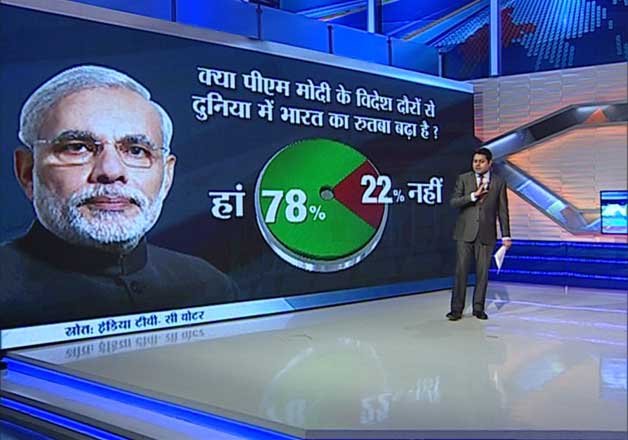 On completion of Modi government's one year in office,  India TV in association with C Voter conducted a survey to gauge the mood of the country. The survey was done to understand how people are rating the one year of NDA rule. While opposition has slammed prime minister's hectic foreign trips, government's handling of Kashmiri separatists, black money etc, the govt has earned accolades for  schemes like Swach Bharat Abhiyaan, Jan Dhan Yojana, Make in India campaign .
The last one year also witnessed some hardliners making inflammatory speeches against minority community affecting the credibility of the government. We have come up with the voter response over government's performance in last one year.
 
Here is how people responded to questions on MODI govt's first year in office:
 
 
1)   Have Prime Minister's foreign visits strengthened India ?
 
   78 % of the participants answered in favour while 22 % responded negatively.
 
2)   Do you agree with Modi Government's Pakistan policy?
 
    63% of participant's responded in favour while responded negatively.
 
3)  Should our government continue the dialogue process with Pakistan ?
 
    76% responded in favour while rest 24%  responded negatively.
4)  Have inappropriate speeches made by some BJP leaders affected the credibility of the Modi government ?
 
      78% voters said yes while the rest 22 % said no
 
5)  Has Modi government's credibility before minorities have improved in last one year ?
         
      64 % voted in favour while rest 26 % voted against it.
 
6)  Was an alliance with PDP for formation of Jammu and Kashmir government  a right decision ?
 
     47%  voters answered in positive while 53 %  in negative
 
7)  Should BJP continue its alliance with PDP ?
 
     71 % voted in favour while 29%  voted against it.
 
8) Has Modi governemnt's populatity declined in last one year ?
 
    48% agreed while the rest 52 % disagreed