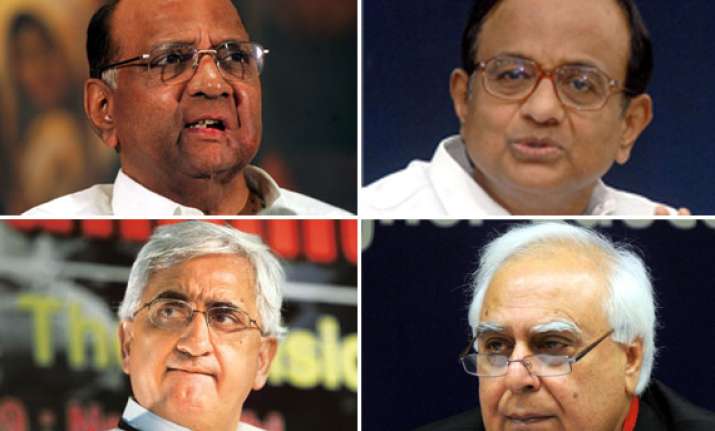 Mumbai, June 6: A PIL petition was filed today in Bombay High Court by Hemant Patil seeking detailed probe into allegations by Team against 15 Union ministers.
The petitioner has made Gandhian Anna Hazare and few of his team members respondents and has prayed to the court to order the detailed investigation based on the evidences submitted by Team Anna.
The 14 ministers against whom the probe has been sought are : Agriculture Minister Sharad Pawar, External Affairs Minister S M Krishna, Home Minsiter P Chidambaram, HRD minister Kapil Sibal,  Law Minsiter Salman Khurshid, Civil Aviation Minister Ajit Singh, Coal Minister Sriprakash Jaiswal, Urban Development minister
Kamal Nath
, Heavy Industries Minister Praful Patel, Science and Technology Minister Vilasrao Deshmukh, MSME Minister Virbhadra Singh, Shipping Minister G K Vasan, New and Renewable Energy Minister Farooq Abdullah, Chemical and Fertilizer Minister M K Alagiri, and Power Minister Sushilkumar Shinde.
Team Anna had demanded a probe against the ministers alleged to be involved in Maharashtra's Adarsh Society scam (Vilas Rao Deshmukh, Sushil Kumar Shinde), Lavasa scam (Sharad Pawar) and Nira Radia tapes case(Kamal Nath).
The allegations which Team Anna made against  Chidambaram relate to the 2G scam, accusing him of  overruling auctioning of 2G spectrum at market price, allowing sale of equity by Swan and Unitech, and Foreign Investment Promotion Board (FIPB) approval to Hutch-Vodafone and Aircel-Maxis.
In a letter to Prime Minister Manmohan Singh on May 26, Team Anna had asked the government to set up a special investigation team (SIT) to conduct the probe. An agitation will be launched from June 25 if the government does not set up the SIT, Team Anna had warned.   
Team Anna had  also demanded that the same SIT should go into some charges made against Team Anna members. It even suggested a list of six former Supreme Court judges from whom the SIT could be formed. 
The letter, signed by Anna Hazare, Arvind Kejriwal, Shanti Bhushan, Prashant Bhushan, Kiran Bedi and Manish Sisodia, had said that the ivestigation team should be made up of three persons from a list containing the names of retired Supreme Court judges, Justices Sudarshan Reddy, Ganguli, A P Shah, Kuldip Singh, J S Verma and M N Venkatachaliah.
The letter had demanded that cases the CBI was investigating against party chiefs Mayawati, Mulayam Singh, Laloo Prasad and Jayalalita should be handed over to the suggested SIT.