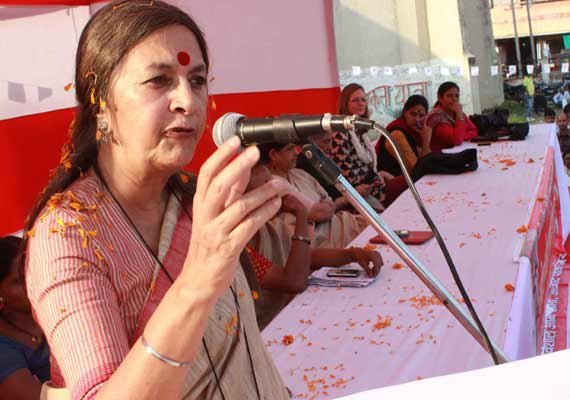 Jaipur:  CPI(M) Politburo member Brinda Karat today expressed concern over "intrusion" of RSS in all the government institutions and said that people who had voted Narendra Modi to power on development plank are "restless" due to it.
"RSS has access to power, RSS is partner to power in Modi government," Karat said.
"Courtesy Modiji and his party, RSS has not only intruded in all the government institutions but is also increasing its partnership," she said.
Karat was delivering a lecture titled: 'Results of multifarious changes in Indian politics' in memory of Prof Ganga Sharma.
"An organisation (RSS) that did not accept our nation's Constitution, and when BJP came to power, it has got access to power...public has not voted Modiji for it," the CPM leader said.
"People of this country are not happy and are restless because they have voted Modiji on development plank in LS polls...I wonder how RSS leadership will run entire country's system.
"But the development that is visible now is for whom...  labourers are attacked (Hamla)...farmers are attacked...  MNREGA is being weakend...forest rights are being finished...  then the development for whom and at what cost.The development is not of Dalits, minorities, women, tribals," she questioned.
"It is clearly visible that development is for Corporate sector, but the people of this country did not vote Modiji for this corporate."Your (Modi) definition of development itself is raising serious questions before all these people waiting for their rights," she said.