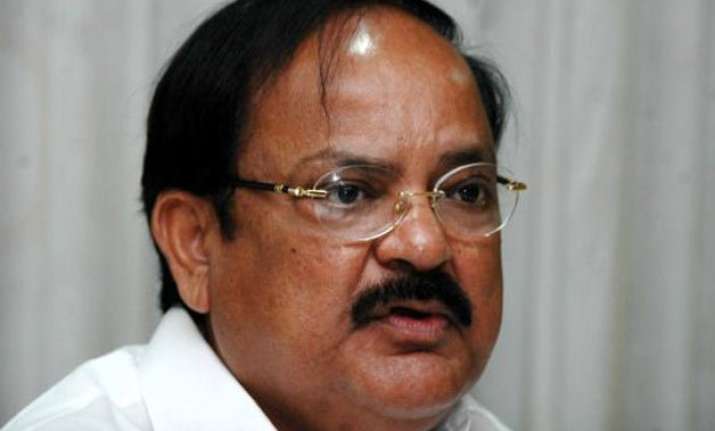 Hyderabad:  A day after Rahul Gandhi had a dig at Prime Minister Narendra Modi over his meeting with Manmohan Singh, Union Minister M Venkaiah Naidu today said that if anybody criticises the meeting between the two leaders, it shows the person's "ignorance, arrogance and immaturity".
"Those who work with humility and have good manners, they talk to different people and take advice. Modiji knows what advice to take. Because we know how economy suffered during Manmohan Singh regime and under Congress leadership," he told reporters here in response to a query on Modi meeting Singh.  
"Having discussions with a former Prime Minister by inviting him with respect, criticising such a thing is a sign of ignorance, arrogance and immaturity. Everybody should try to learn, learn and learn and not earn, earn, unlike in the past," he said.
When Naidu was told that the question was about Congress vice-president Rahul Gandhi, the BJP leader said "you need not take him seriously. Don't take him seriously. People have not taken him seriously in the last 10 years."
Talking about the meeting, the Congress vice-president had yesterday said "Manmohan Singh criticised the health of economy in the morning yesterday. Narendra Modi took "pathshaala" (lessons) from him in the evening." Replying to a query on Congress' criticism that RSS' agenda is being implemented by NDA government, Naidu said there is nothing new in the charge and that Congress blamed RSS for anything.
"They have been saying this, the same tune and tone is used for years together. RSS is blamed if there is no rain, if someone is not getting married, if children are not born...RSS is blamed if BJP does something, if there is drought. They have that habit of remote controls," he said.  
In an indirect criticism on Rahul Gandhi's charge that RSS does not allow space for individual views, Naidu said nobody accepts an ideology if it is thrust and that he does not feel ashamed about being inspired by RSS ideology.
"Why should we feel shy about it? Nobody takes ideology if it is thrust on them. People are influenced if the ideology is attractive in implementation. The country is influenced by Modiji's ideology today, influenced by BJP. When we joined BJP, we were looked down upon by some. They said BJP is a north Indian party, party of urban areas and party of certain communities. Today, BJP is acceptable universally," he said.