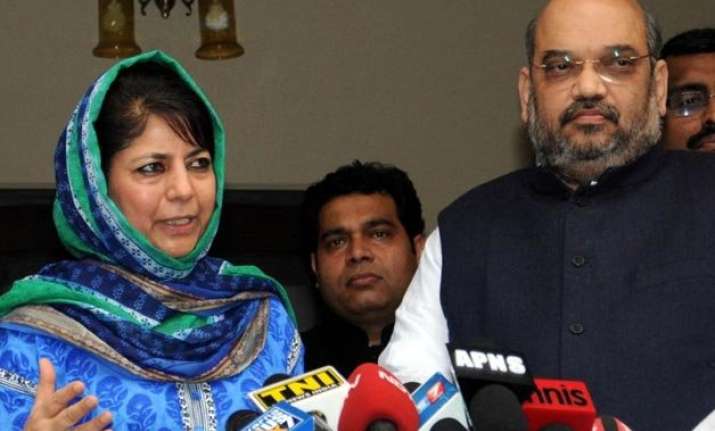 New Delhi/Srinagar: People's Democratic Party (PDP) has toughened its stand on government formation in Jammu and Kashmir with reports suggesting that the party wants an assurance from the BJP bigwigs that spirit of the agenda for alliance will be respected and upheld.
Naeem Akhtar, PDP leader and a close confidant of Mehbooba Mufti, said that PDP 'was expecting concrete action on an agenda for governance agreed upon last year, to continue an alliance'.
"An agenda of alliance was drafted and it has to be implemented," he said.
There are also reports doing the rounds PDP leaders are against any 'reassurance' from the level of BJP general secretary Ram Madhav and that a written assurance must come from either the Home Minister or the Prime Minister.
Akhtar said that party chief Mehbooba Mufti has not spoken to anybody on government formation or becoming the chief minister in the state after Sayeed's death.
The PDP leader also said that his party was reviewing how much of the 'common vision' of PM Narendra Modi and Mufti Mohammad Saeed regarding J&K had been taken forward.
On the other hand, senior BJP leader and J&K in charge Avinash Khanna said that it was awaiting a first move by Mehbooba Mufti on forming the new government.
"PDP is yet to make a first move. Let the PDP lay out their cards, then we will comment," he said.
The state is under Governor's rule as Mufti, picked by the PDP to replace her father as CM, has refused to take oath after the week-long state mourning on the death of J&K CM Mufti Mohammad Sayeed ended on Wednesday.
Meanwhile, former J&K chief minister Omar Abdullah yesterday said the PDP's review of the performance of its coalition with the BJP was a vindication of opposition charge that the government did 'absolutely nothing' in the past 10 months.
"Effectively making our point that their government did absolutely nothing for 10 months," Omar said.
"Why is BJP in a fix? PDP needs to explain why it surrendered these issues for 10 months and still praised coalition," Omar said in response to media reports.
Referring to the PDP's stand of addressing the external and internal dimensions of the Kashmir issue, the opposition leader said both facets of the issue were playing up and there was confusion about both.