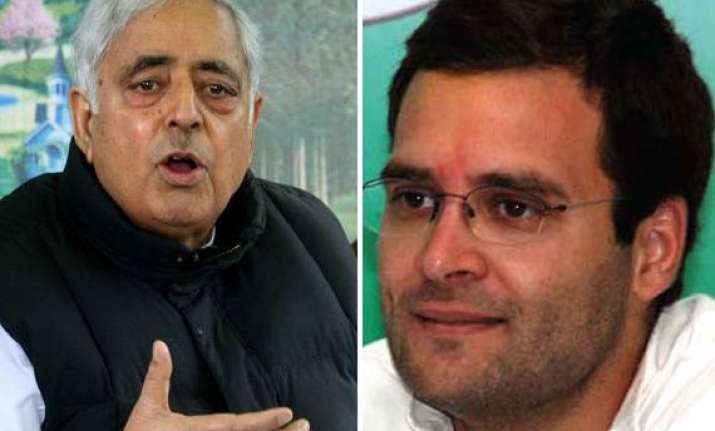 Jammu, Dec 18: PDP today asked Rahul Gandhi, who has been alleging misuse of central funds in BSP-ruled Uttar Pradesh, to pay heed to "largescale misutilisation" of central allocations in Jammu and Kashmir where the Congress is a partner in power.

"We seek to draw attention of AICC general secretary Rahul Gandhi towards misutilisation of funds allotted by the Centre for various developmental schemes in J&K", former chief Minister and Peoples Democratic Party patron Mufti Mohammad Sayeed told a public rally in Jammu city.

Noting that the Congress general secretary has been pinpointing such misappropriations in UP under Mayawati rule, the Mufti said, "In Jammu and Kashmir where such bunglings have been taking place on a large scale, Congress is very much a partner in power."

Expressing his concern over failure of the National Conference (NC)-led coalition regime to implement Centre sponsored schemes in the state, he said all such schemes are defunct due to mis-goverance and lack of vision among those who are at the helm of the affairs.

Sayeed said that funds allocated for these developmentalschemes are either mis-appropriated or brazenly siphoned off by the members of ruling coalition.

"Due to lack of transparency and accountability in governance, there is no check on utilization of funds allotted by the Centre for developmental schemes," he said, adding that all the major Centre sponsored schemes, be it JNNURM, MGNREGA, PMGSY or SSA are defunct due to lack of direction, monitoring and accountability.

Lambasting the ruling combine for delaying civic bodies elections under one pretext or another, the PDP patron said the Centre has blocked further grants for urban development because the state government has failed to constitute duly elected local bodies.

Alleging erosion of democratic institutions in the state, he said, "Dignity and sanctity of state Assembly is undermined over the last three years because no serious discussion is allowed in the House. Nothing has been done to make Panchayati Raj institutions functional despite the fact that more than 80 per cent people cast their votes in Panchayat polls."