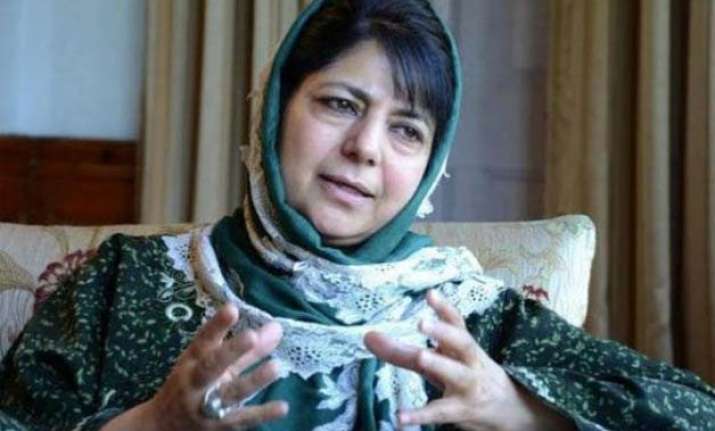 Jammu: With the newly sworn-in Jammu and Kashmir Chief Minister Mufti Mohammad Sayeed's statement crediting "people from across the border" for conduct of Assembly polls triggering a controversy, his daughter and PDP Chief Mehbooba Mufti today stood by her father's statement.  
"My father has not said anything wrong as during the Assembly elections, violence was less as compared to Parliament elections. I stand by his statement," Mehbooba told reporters at State Legislature complex here.  "If some people expect that my father say bomb Pakistan and throw Hurriyat leaders in jails in Delhi—as Farooq used to say.. I am sorry to say, my father is not used to that language," she said.
Soon after taking oath yesterday, Sayeed had said that credit must be given to people from across the border—an oblique reference to Pakistan—Hurriyat and militant outfits for "allowing a conducive atmosphere" for the Assembly polls in December last year in J-K.
Calling her father a "man advocating reconciliation and resolution", Mehbooba hit out at Congress for raising the pitch over the issue.
They (Congress) have nothing to do now and they are becoming irrelevant day in and day out, she said.  Reiterating her stance, the PDP leader said that the process of de-escalation to certain extent started from Hurriyat and Pakistan in these elections, which cannot be denied.
Apart from giving credit to the people of the state, we have always appreciated security forces and police, she added.  "Our agenda of alliance [with the Bharatiya Janata Party] has clearly listed how peace can be achieved in Jammu and Kashmir, with whom we can engage and hold dialogues and how we can bring forward (former prime minister Atal Bihari Vajpayee's) agenda for peace," Mehbooba said.  
"Mufti saab considers the entire populace of the state.  There is no need to put people in jail, no need to bash each other up. Any talks that might occur with separatists must take place within the frameworks of democracy," she said.  Mehbooba maintained that "there were fewer instances of stone pelting" in the assembly elections leading to a "larger turnout".
"We felt that the separatists and Pakistani elements have also understood that democracy is the only way out," she said.  The leader also pointed out that the party is looking at "increasing the stakes of people in the democratic process and bring peace to Jammu and Kashmir".