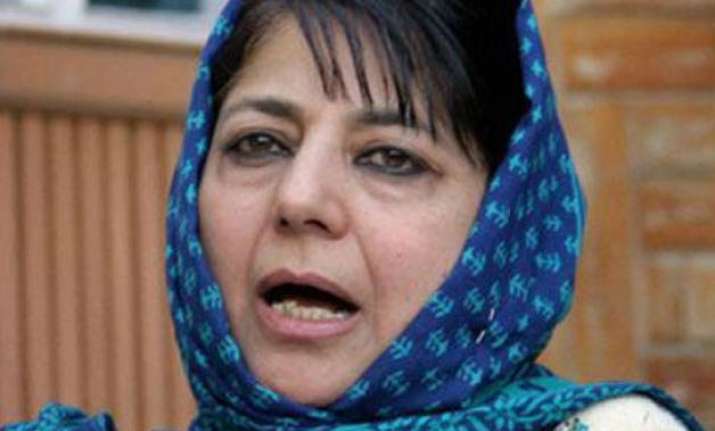 Srinagar/Jammu: In the first definitive move towards formation of a new government in Jammu and Kashmir after several days of uncertainty, the Peoples Democratic Party (PDP) on Sunday authorised its chief Mehbooba Mufti to take a final call in the matter amid indications that the party is likely to maintain its ruling coalition with the BJP.
Commenting on the formation of government in Jammu and Kashmir, which is hanging fire since the demise of chief minister Mufti Mohammad Sayeed on January 7, senior PDP leader Naeem Akhtar said that the agenda of alliance was intact and party president had been authorised to take a call in this regard.
"The agenda of alliance is a secret document for us, and party leaders have authorised party president Mehbooba to take a decision in this regard," he said.
When asked how long it would to form a government in the state, Akhtar said, "No timeline."
"There is no condition; good faith and implementation of the alliance's agenda is foremost to the PDP, but the final call will be taken by Mehbooba," the PDP leader said.
The decision authorising Mehbooba was taken by the 'extended core group' of PDP at a marathon five-hour meeting in Srinagar. This was the party's first formal meeting since the death of Mufti Mohammad Sayeed at the AIIMS in New Delhi on January 7.
Meanwhile, state BJP leader and former deputy CM Nirmal Singh hoped the alliance would continue and said his party has no objection over Mehbooba succeeding her father.
"We don't have any objection as we have already given signals to it earlier. We don't know what their (PDP's) stand is, unless we get something official from them, we cannot say anything, but we are hopeful that this alliance will go ahead," he said.
The state has been under President's rule since January 9 as neither PDP nor BJP staked claimed for forming government.
No truck with BJP, says Omar
Even as National Conference patron Farooq Abdullah retracted from his demand for holding fresh elections if the coalition fails to form the government in Jammu and Kashmir, his son and former chief minister Omar Abdullah on Sunday ruled out the possibility of any tie up with the BJP in this regard.
Omar posted on his Facebook page, his party was not power hungry and would not make an ideological compromise.
"The PDP is an ally of the BJP, and the NC is not obliged to rescue either PDP or BJP from the ensuing stalemate in their standing political alliance," he said.
Speaking with reporters here on Sunday evening, Farooq Abdullah retracted from his Saturday's statement, where he had called for dissolving the assembly and holding fresh elections.
Asked to comment on his statement in which he had said that his party's doors were open if the BJP leadership approached him to form a government in the state, Farooq said he had never said that his party was going with the BJP.
Senior Abdullah added that the NC has only 15 MLAs and with only 15 MLAs it cannot form a government.