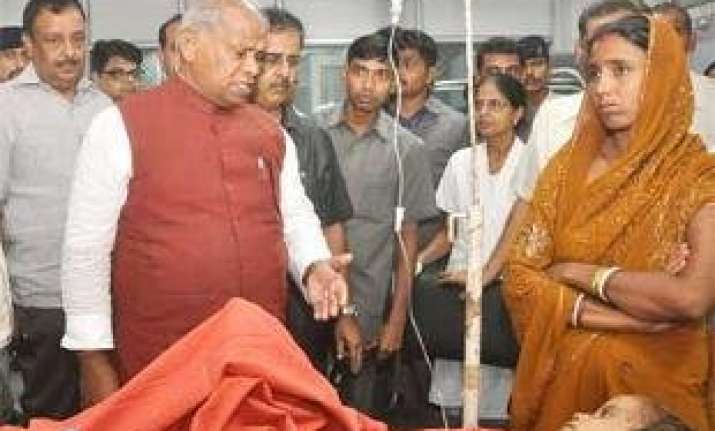 Patna: Bihar Chief Minister Jitan Ram Manjhi was left fuming during a surprise visit yesterday evening to Patna Medical College and Hospital (PMCH) to meet the Dussehra stampede victims as he found doctors unavailable in the Emergency Ward and the place wearing a filthy look.  
The chief minister was angered by the medical arrangements in the hospital's Emergency Ward as doctors were found to be absent from their stations while medicines were said to be unavailable. Also, the entire place had a filthy appearance.  
When Manjhi wanted to see hospital superintendent Lakhinder Prasad he, too, was found to be not around, following which the chief minister was livid.  "People were not on duty. The doctors were out. I talked to the stampede victims and other patients also. Eighty per cent of the prescribed medicines were unavailable. They were being bought from outside. Only injections are given here. I called the PMCH Superintendent, but he was not present," Manjhi told reporters.
The chief minister was aghast at the filth strewn all around and also noticed the dirty bed-sheets and the unhygienic conditions prevailing at the hospital.  "The bed-sheets are being changed once a month or at times after 15 days or a week. The rules are not being followed. I took the PMCH Principal and Deputy Superintendent and visited different places in the hospital. I went to the bathroom and saw that it was very dirty with no water available," Manjhi added.
Manjhi, who went around different wards like surgical, urology and orthopaedic, termed the condition of the premier government hospital in the state capital "very dissatisfying".  "The worst thing is that there are patients here who were admitted here for a month or 45 days, but doctors are not treating them. Doctors are not doing regular rounds, they seldom come to see the patients," said Manjhi.
The annoyed CM has promised strict action.  "I will think about this now. We will take action tomorrow," he added.