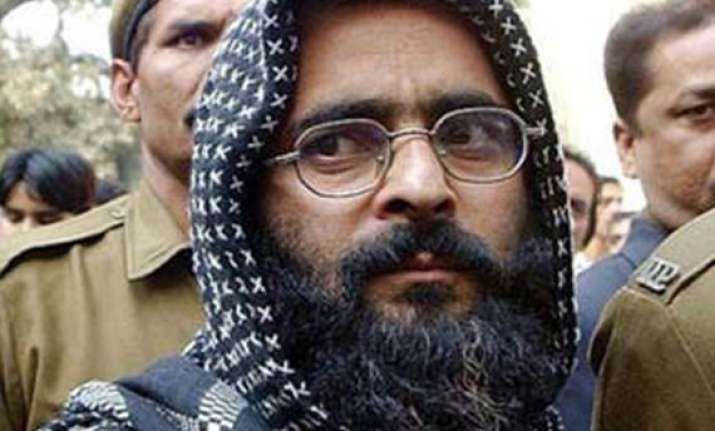 New Delhi, Dec 12:  Ahead of the 11th anniversary of the December 2001 attack on parliament by Lashkar-e-Taiba (LeT) and Jaish-e-Mohammed terrorists, the Bharatiya Janata Party (BJP) Wednesday again demanded the hanging of Afzal Guru, sentenced to death for the attack.
"Every Dec 13 we pay tributes to the martyrs of the parliament attack. Just as victims of the Mumbai attacks were given justice by hanging Ajmal Kasab, the government should hang Afzal Guru and put a balm of the wounds of the people," BJP spokesperson Sayed Shahnawaz Hussain said.
Parliament was attacked Dec 13, 2001, by five armed LeT and Jaish-e-Mohammed terrorists. Nine people were killed and over 15 injured in the attack.
Four people - Afzal Guru, Delhi University professor S.A.R. Geelani, Navjot Sandhu alias Afsan Guru and her husband Shaukat Hussain Guru - were arrested in connection with the case.
Geelani and Afsan were let off for lack of conclusive evidence. Shaukat Hussain Guru's death sentence was commuted to 10 years' imprisonment and he is now out of jail.
Afzal Guru was sentenced to death Dec 18, 2002, by a trial court, which was upheld by the Delhi High Court Oct 29, 2003. His appeal was rejected by the Supreme Court Aug 4, 2005. His mercy plea is pending and Home Minister Sushilkumar Shinde has said he will study the file after parliament's winter session ends Dec 22.
The BJP has from time to time been demanding Guru's execution. The demands have become shriller after Mumbai terror attack accused Ajmal Kasab was hanged Nov 23.