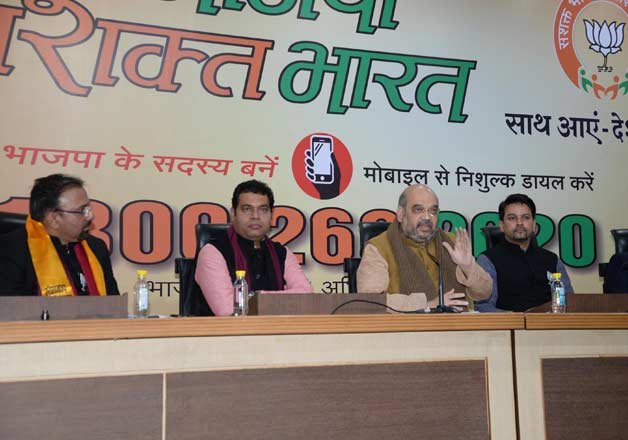 New Delhi: Over 100 corporate honchos joined the Bharatiya Janata Party (BJP) on Sunday in presence of the party chief Amit Shah and Bhartiya Janata Yuva Morcha (BJYM) president Anurag Thakur.
Speaking on the occasion, Shah said that corporate leaders weren't joining the party but a family.
He also appealed to the newly inducted leaders to take benefit of schemes launched by the NDA government and create employment opportunities in the country.
A statement released by the party said, "Over 100 CEOs became members of the BJP which included Perveiz Alamgir Khan from Luftansa, Henry Moses country head of Qatar Airlines, Neeta Agarwal of AT&T, Jagpreet Lamba of AIKON Group, Kapil Kumaria of Corporate Alliance group, Anil Parashar of Interglobe Technologies, Dr. Naveen Talwar, senior orthopedic surgeon, Fortis Hospital, Rajeev Tyagi, senior advocate and Rajiv Bhambri, CEO, India Abroad newspaper (of rediff.com)."
Many top executives of companies like Bank of America, Honeywell, SpiceJet, Bombardier, UTC, KPMG were also present on the occasion.
This is probably the first time when top private executives have joined a political party en masse.
Anurag Thakur is said to be instrumental in getting them on board.
 "It is indeed a matter of great pleasure that professionals, administrators, CEOs and entrepreneurs' (PACE) had joined the BJP and the party's activities would certainly gain pace by their joining," Anurag said,
Since the top bosses have joined, other employees working in these organizations would also be motivated to join the BJP, he added.
The BJP is presently aiming to become the largest political party in the world.
Party's vice president Mukhtar Abbas Naqvi had earlier said that the aim is to overtake the Communist Party of China which is presently the largest in terms of total membership.
At present, the Chinese Communist party has 86 million members, while the BJP has 34 million. Naqvi had in December last month claimed the party has registered 10 million people countrywide during the membership drive which was launched on November 1.