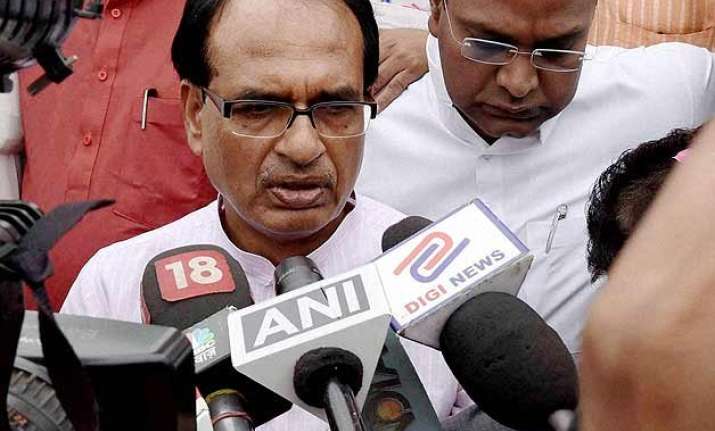 New Delhi/Kolkata/Bhopal:  Amid mounting outrage over the Vyapam deaths, Opposition today sharpened its attack on Madhya Pradesh Chief Minister Shivraj Singh Chouhan, demanding his sacking over "cold-blooded murders" but BJP backed its beleagured leader and disfavoured the state ordering a CBI probe.
Congress, the Left and AAP also brought in Prime Minister Narendra Modi in the line of fire, questioning his silence on the "sordid affair".
"Shivraj Singh Chouhan should be sacked and an impartial probe should be done in the Vyapam scam," Congress spokesman Randeep Surjewala said in Delhi.
Former Union Home Minister P Chidambaram insisted that Madhya Pradesh government recommend a CBI investigation before the "next unnatural death", stressing the "buck stops with the Executive".
Congress spokesperson P C Chacko said the "Chief Minister cannot be spared and should take responsibility" along with the Prime Minister.
"Prime Minister should explain and take moral responsibility for what is happening in the country," he said addressing reporters at the Congress headquarters.  
West Bengal Chief Minister Mamata Banerjee, who was said to be warming up to the Prime Minister, "condemned" the deaths and said her party TMC will raise the issue in Parliament.  "It is not merely a law and order issue.
It is something bigger than that. So many killings have taken place. Many people are involved. It is cold-blooded murders," Banerjee, also the Trinamool Congress chief, said in Kolkata.
 
"The Trinamool Congress will raise its voice against Vyapam scam in Parliament. I strongly condemn the incident. It should be investigated under the monitoring of the Supreme Court," she said.
Amid calls for handing over the probe to CBI, BJP said it was not averse to such an inquiry but the decision will have to come from the Madhya Pradesh High Court, which is monitoring the case.
"Why should we ask the high court to order a CBI or any other probe? The court-appointed SIT is probing the case and it is reporting directly to the high court.
The court is seized of the matter and can decide whatever it wishes. We have no issues with any sort of investigation," senior BJP leaders said, speaking on condition of anonymity.  
BJP leaders have claimed that since the registration of the FIR in July 2013, over 55 cases have been lodged and close to 2000 of the 2500 accused arrested in various Vyapam scam cases.
They said none from the families of the deceased persons had alleged any foul play, except in one case where an accused lodged in a Gwalior jail died under mysterious circumstances.  
"Even in the journalist's death, the state government accepted all demands of his family, including postmortem by a panel of doctors and video-recording of the exercise," they said.
Congress has claimed upto 45 people related to the massive admission and recruitment scam have died unnatural deaths and said Chief Minister Shivraj Singh Chouhan cannot escape responsibility for it.
CPI(M) accused the Centre of "encouraging" crime and corruption and took potshots at the Prime Minister saying the "normally outspoken" leader had not uttered a single word on the "sordid" Vyapam affair.
"Worst thing is, the normally outspoken Prime Minister (is keeping quiet). If nothing else, his tweets are famous or infamous because it's one-way traffic of communication.  
"But there is not a single word on this entire sordid affair. Not one tweet, not one communication. So, nobody knows what the Prime Minister is thinking," CPI(M) General Secretary Sitaram Yechury said.
"This is worse than the 'Maunmohan' Singh characterisation the present Prime Minister gave to the former Prime Minister.  Worst type of crony capitalism that is being built. And this is now becoming a habit of this government to encourage corruption with crime," Yachury said, terming the Vyapam scam an "unprecedented" event.
AAP leader and Delhi Chief Minister Arvind Kejriwal questioned the Prime Minister's silence over the mysterious deaths.
"People want Prime Minister to speak and intervene in Vyapam. PM should no more remain silent. Vyapam scam and all deaths so far ought to be thoroughly investigated. Guilty must be punished. Something MUST be done to prevent more deaths," Kejriwal tweeted.
Meanwhile, Congress welcomed the Supreme Court's decision to hear a petition seeking removal of Madhya Pradesh Governor Ram Naresh Yadav, a former Congressman, for his alleged involvement in the Vyapam scam, while BJP was guarded in its response saying no politics should be played over the issue.  
"Truth will prevail in Vyapam scam and many high dignitaries are going to be unmasked in the scam in days to come.
Law of jungle is prevailing in MP," state Congress spokesman K K Mishra said in Bhopal.  However, BJP's media cell in-charge Hitesh Bajpai said the rule of law was prevailing in MP and his party held the orders of the apex court and other courts in high esteem.  
"We highly respect court orders and directives. We will aggressively fight the misinformation and the smear campaign of Congress against BJP over the scam," Bajpai said.