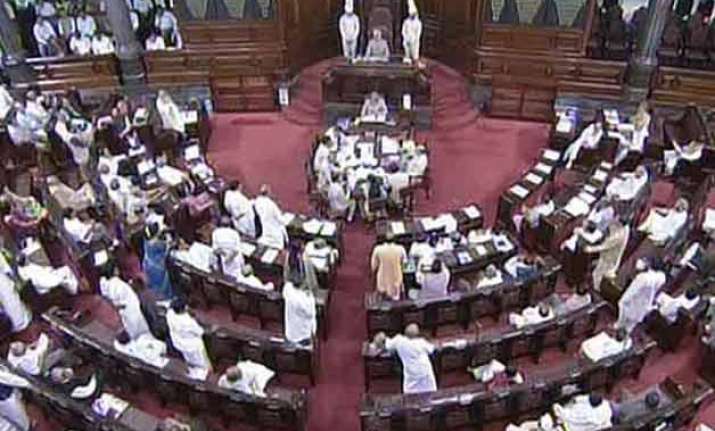 New Delhi:  Opposition Congress today forced adjournment of the Rajya Sabha for about as its members created a furore demanding the resignation of ministers allegedly involved in Lalitgate and Vyapam scam before these issues could be taken up for discussion.
Congress members stood in the aisle and raised slogans seeking action against External Affairs Minister Sushma Swaraj and Rajasthan Chief Minister Vasundhara Raje for allegedly helping controversial former IPL head Lalit Modi and Madhya Pradesh Chief Minister Shivraj Singh Chouhan over the Vyapam scam, forcing Deputy Chairman P J Kurien to adjourn the House till noon soon after it assembled for the day at 1100 hours.
Virtually no business has taken place in the House since the session began last week as a determined opposition has been insisting on its demands, including a statement from Prime Minister Narendra Modi on the two issues.
Soon after the House mourned death of its former member Sarada Mohanty and papers were laid on the table, Kurien said he has received four notices for suspension of business to take up discussion.
"Earlier also I agreed to suspend business (on similar notice) but the motion was not moved. What is the point," he said and asked Congress members if they were ready to move the motion today.
Anand Sharma (Cong) said while the motions of past are past, the motions moved today were independent motions. The motions seek a response from Prime Minister "to our demand for accountability and action."
"We are within our right to move the motion and demand action," he said, adding the government has not agreed to Congress party's demand.
Telecom Minister Ravi Shankar Prasad said Leader of the House and Finance Minister Arun Jaitley as well as other ministers have already stated that the government was ready for a discussion and it should start immediately.
"Please start discussion immediately," he said, accusing the opposition of "running away from discussion."
To this, Sharma said Prasad was "suffering from selective loss of memory... we want tangible proposition (on the demands)."
Kurien said the motion demands discussion on the Vyapam scam and Prime Minister's response to it while fixing responsibility. "They (government) are ready for it," he said.
But the Congress members were not satisfied moving into aisle shouting slogans demanding resignations first. "Pehle istifa do (first resign)," they shouted. Amid the din, Kurien adjourned the House till 1200 hours.