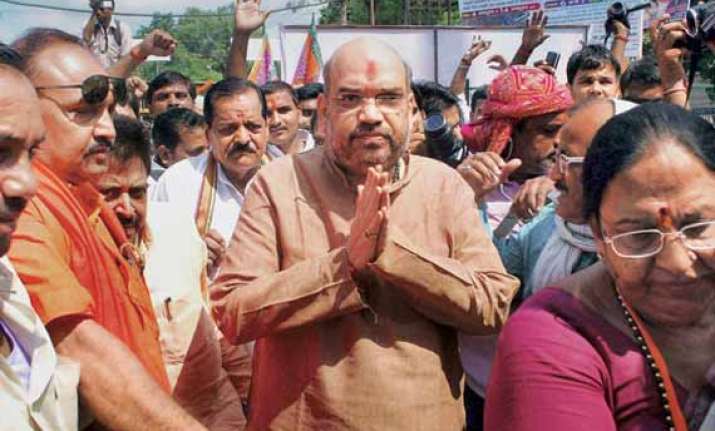 Jammu: BJP President Amit Shah today lambasted J&K Chief Minister Omar Abdullah while addressing a public rally at Kathua in Jammu.
 Shah said that state's money was being drained into Abdullah and Mufti family's pockets and that this  was  like adding salt to the wounds of people who had to abandon their homes because of deliberate  ceasefire violations by the Pakistani army.
"On Firing and shelling along the border with Pakistan, Omar Abdullah had taunted BJP – Kya achhe din aaye (Have good days begun). By saying so he added salt on the wounds of people who were dislocated from their homes and suffered,"  said the  BJP Chief.
"Omar has few days left with him as the CM of J&K, therefore he must work well. We need patriotic people in Jammu and Kashmir," he added.
Omar Abdullah had called for the Centre to take stringent action against Pakistan's repeated ceasefire violations. Omar had said, "Given the breakdown in communication between India and Pakistan, I don't know how the Modi government plans to resolve this issue. But they have an obligation to resolve this because they had promised 'achche din' to the people of this country."
Amit Shah also reminded people how the Abdullahs and Mufti family had been pocketing all the money of the state. He said, In Jammu and Kahmir, Abdullahs and Mufti governments keep rotating. The state's money drains into the two family's pockets.
In a setback to Congress, former party MP Lal Singh joined the BJP in the presence of Amit Shah.