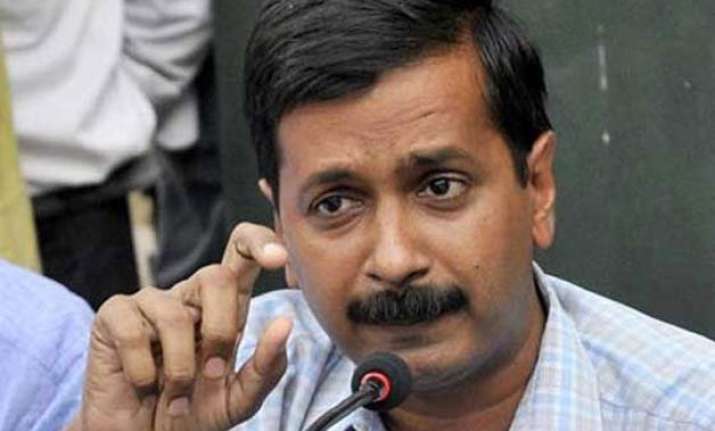 New Delhi: The trial run of the Delhi government's ambitious odd-even scheme ended on Friday with Chief Minister Arvind Kejriwal hailing the experiment as "a big success" and saying it would be back in an "improved form".
 
"Proud of u Delhi. U give me confidence 'Together, we can achieve anything'. 1st phase of Odd Even ends today. Will do again in improved form," the CM tweeted.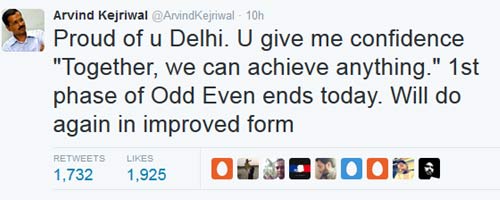 And just hours before the unique January 1-15 scheme ended amid conflicting claims, Kejriwal urged Delhiites to continue it voluntarily "if you can".
"The improved version would include pruning the list of exemptions and adding more buses, transport minister Gopal Rai told a news Channel,
However, the Delhi government officials said there were no immediate plans to bring the road-rationing experiment back.
Air pollution declined by 20-25 percent in the capital during the January 1-15 period, Delhi Transport Minister Gopal Rai said.
He said air samples collected by around 20 mobile teams of the Delhi Pollution Control Committee from different locations showed that pollution levels in inner Delhi areas had gone down.
"In inner Delhi, the average PM 2.5 level was around 300 micrograms/m3. However, it remained around 400 micrograms/m3 in border areas," he added.
The odd-even scheme was application on all days except Sundays, and was in operation from 8 a.m. to 8 p.m. from Monday to Saturday.
Several categories were exempt from the scheme including a string of VIPs, women drivers, emergency services and CNG-operated transport.
Police admit there were far fewer violations of the odd-even plan than most people had expected. A total of 9,151 challans were issued to erring motorists -- a small number compared to Delhi's vehicular population.
Chief Minister Kejriwal urged the people of Delhi to keep following the odd-even formula voluntarily from Saturday "if you can do it". He reasoned why: "It is a question of our health, our children's health, our city."
He said most people, including those who were inconvenienced, admitted that the odd-even curbs hugely restricted the total traffic on the roads, making commuting a pleasant experience.
Meanwhile, a survey report said that overall public support for the odd-even initiative was 4.5 times more than the opposition it faced.
Some 54 percent of over 12,500 people polled wanted it to continue, while 21 percent voted against it, said the report released on Friday.
The Delhi government is expected to hold a meeting on Monday to review the outcome of the odd-even scheme.