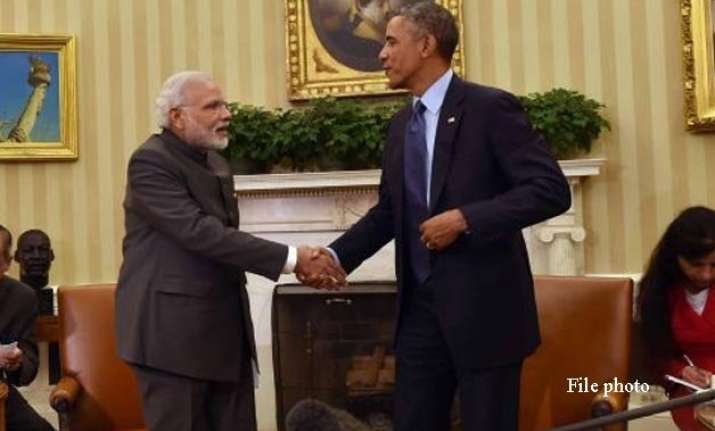 New Delhi: US President Barack Obama and Prime Minister Narendra Modi will together hold 'Mann Ki Baat' programme on All India Radio (AIR) on January 27.
"This month's 'Mann Ki Baat' episode will be a special one, where our Republic Day guest @BarackObama & I will share our thoughts together," the Prime Minister Tweeted this morning.
"I am eagerly looking forward to the special 'Mann Ki Baat' programme with President @BarackObama, which will be aired on 27th January," the PM's another tweet reads.
Modi also invited people to participate in the programme by sending their questions.
The Prime tweeted: 'Mann Ki Baat' with President @BarackObama will not be complete without your participation! Send your Qs till the 25th, using #AskObamaModi One can visit the MyGov -- http://mygov.in/signup -- to post their questions for the two powerful leaders.
"Additionally, MyGov gives you the opportunity to post your questions on a specially created Open Forum," Modi said on the micro blogging site, adding that #AskObamaModi & be a part of this memorable 'Mann Ki Baat' programme, illustrating a special bond between India & USA.
In the US, Obama does a weekly radio address anyway. After assuming the Prime Minister's Office (PMO) in May last year, Modi adopted the same policy of using radio as a means of communicating to reach the masses. So far, the Prime Minister has addressed the people thrice through his 'Mann Ki Baat' programme on AIR.
It should be noted that Modi, during visit to Washington DC in September last year, and Obama together had penned a joint op-ed along in the Washington Post. This was for the first time that an Indian leader has ventured on the path of a joint editorial.
Obama is expected to arrive here on January 25. On the same day, bilateral meetings, delegation-level talks, etc, followed by a state dinner at Rashtrapati Bhavan is scheduled. The US president will also visit the Taj Mahal in Agra on January 27 before leaving for his home country.