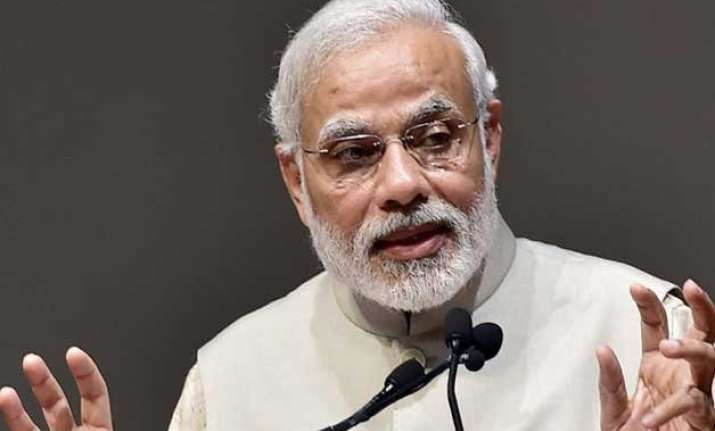 New Delhi: The number of female births in Haryana is rising fast as the 'Beti Bachao, Beti Padao' campaign has brought about a "real" societal change there, Prime Minister Narendra Modi said today hailing the state which is notorious for female foeticide.
Modi, while talking about the Republic Day celebrations, said a unique experiment was carried out in Haryana and Gujarat this time.
"Haryana and Gujarat gave importance to the 'daughter'. This year, the most educated girl of a village was invited to unfurl the national tricolor in a government school. Well educated 'daughter' was given special importance," he said in his monthly radio programme 'Mann Ki Baat'.
The Prime Minister said the two states had tried to send out a great message with regard to the 'Beti Bachao, Beti Padao' (Save the girl, educate the girl) campaign.
"I appreciate the imagination of both these states. I congratulate all the girls who got the opportunity to unfurl the national tricolor," he said.
In Haryana, Modi said, one more thing happened.
"The families, where girls were born in the past year, were given special invitations at Republic Day functions and seated in the first row as VIPs. This, in itself, is a big moment of pride and I feel happy that I had launched the campaign of 'Beti Bachao, Beti Padao' from Haryana because in that state the sex-ratio had become very bad," he said.
The Prime Minister said when he proposed to launch the scheme from Haryana over a year back, officers had advised him against it, saying it would be a difficult task in that state because of "negative atmosphere" there.
"But I did the work and today I appreciate from the bottom of my heart that they owned up this appeal. Today, the number of births of females is rising fast. I really appreciate the
societial change there," he said.
Modi had launched the scheme on January 23, last year from Panipat in Haryana, a state which has one of the worst sex ratios in the country.
Mahendragarh in the state was the worst with only 775 girls born per 1000 boys.
Modi had denounced the practice of female foeticide, saying such discrimination reflects "mental illness" and displays a mindset "worse than people in the 18th century". He had slammed the social beliefs girls are "someone else's property" and it is the boys who look after the parents.
Turning to this year's Republic Day, the Prime Minister said the countrymen showed a lot of courage in celebrating it amidst the concerns as to what terrorists would do.