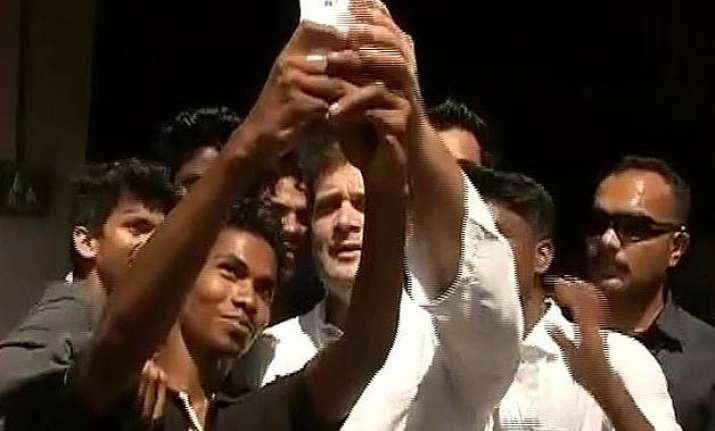 New Delhi : Rahul Gandhi, has become the latest political leader to be bitten by the selfie bug.The vice president of Congress party on his second day of his Kerala visit   today took selfies with fishermen in Kerala.  
The selfie was taken by a group of young men while his security men were keeping a strict vigil.
Earlier  on Tuesday, BJP leader and Union minister  Ravi Shankar Prasad taking a jibe on Rahul Gandhi said   "Prime Minister Narendra Modi should not be blamed" for nobody taking photographs with the Congress leader."
Prime Minister Narendra  Modi's selfies have  became quite  trendy during his visit to China.  The prime minister posted a selfie with Chinese Premier Li Keqiang that was billed as "the selfie of the world's two mightiest" by Forbes.
Meanwhile taking selfies is now seen as a way for instant connect with the masses by the political leaders.
The Congress leader also took   meal of Kappa with Meen Curry with the family of Kizhakkuttu Karunakaran and Thankamani in Thrissur.