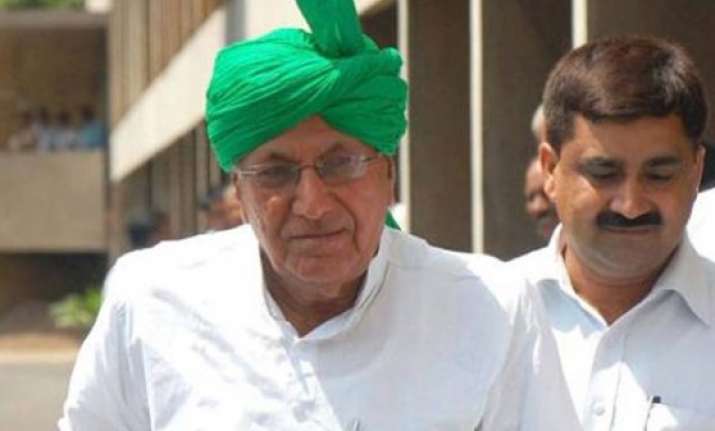 Chandigarh: Unfazed by Delhi High Court summons, INLD chief Om Parkash Chautala said he was not afraid of going to jail as his family has history of 'struggling for people's interests'.
"I am not afraid of jail. When I was born, my father (late Devi Lal) was lodged in Lahore jail. We gave jobs to teachers, but Congress hatched a well-planned conspiracy and we had to go to jail," he asid.
"Jail is not new for us as we have been jailed earlier in our struggle to protect people's interests. What is sad, however, is that we have been portrayed as criminals for giving jobs," he added.
The INLD leader was speaking an election rally in Jhajjar.
Chautala's remark came hours after the Delhi High Court directed him to appear before it on Friday on CBI's plea for cancellation of his bail and immediate surrender for allegedly violating bail conditions.
The INLD leader, who has been convicted and sentenced to 10 years jail term in a recruitment scam involving 3,200 teachers in Haryana, is out on bail on health grounds.
The 79-year-old former chief minister said that during the Emergency period, he had remained in jail for 19 months along with his father.
He said in Jhajjar that if his party forms the government, then on the first day itself, he will offer 3.20 lakh jobs.
Chautala, whose party is eyeing to wrest power in Haryana after ten years, also took a swipe at Prime Minister Narendra Modi, who during a poll rally in Kurukshetra a few days back had asked the INLD supremo whether he does not even trust his sons.
Modi had taken a dig at Chautala for saying that he will take oath from Tihar jail and questioned him whether the INLD leader did not trust his sons even.
"In Haryana, there is a culture that till the time parents are living, such responsibilities (handing over reins of power) are not entrusted to children. And I don't have just two sons, entire Haryana is my family," Chautala retorted.