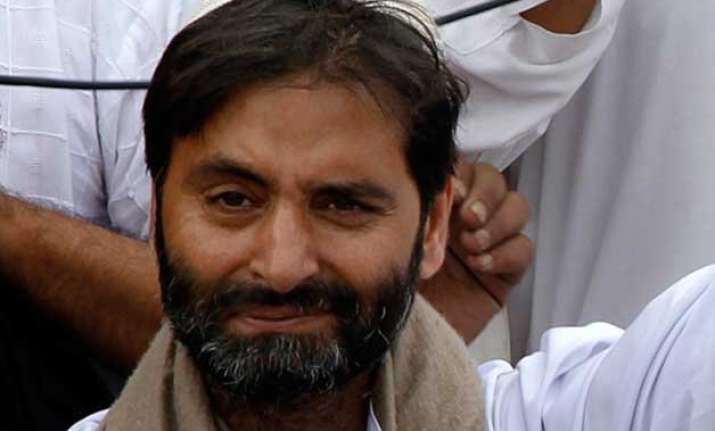 Srinagar: Separatist JKLF chairman Yasin Malik today accused the state government of not giving any space to his organisation for "political" activities and gave a call for 'jail bharo' agitation from Friday to protest the "curbs".
"The government is not giving us any space (for political activities). We wanted to reach the villages of the Valley... But we were detained. There is no political space here," Malik told reporters here.
The JKLF leader said Chief Minister Mufti Mohammad Sayeed wants to pass the six years of his term by keeping the separatists under house arrest and by not allowing any political space.
"He thinks he can pass his Chief Ministerial term by these tactics but we will not sit silent. It is our duty to protest against the curbs," he said.
Malik said JKLF would launch a 'jail bharo' agitation for 10 days from Friday. "If even after 10 days, the government continues to use the same tactics, then we will think of something else and intensify the protests," he said.
He lashed out at local media, saying it was "the PR (public relations) of the government".
Claiming that "there is no visible government" in the state, Malik said the government is "visible only in the media. You (media) are like a laundry shop, a dry cleaning shop to wash their (government's) dirty linen in public."
He said, "Every other day there is a statement of the Chief Minister that separatists will be given space for their activities, but no one asks him anything when we are detained, when youth are arrested and other separatist leaders put under house arrest."
On the recent attacks in Sopore township of Kashmir's Baramulla district where two people have been killed by unidentified gunmen in the last three days, Malik appealed to United Jehad Council (UJC) chief Syed Salahuddin, who is believed to be in Pakistan, to probe the incidents.
"We have two guns here - one of State and the other of militants and both have condemned it in strong possible words. I cannot suggest anything to the government, but I appeal the UJC chairman to form a committee to probe the incidents and identify the culprits," he said.