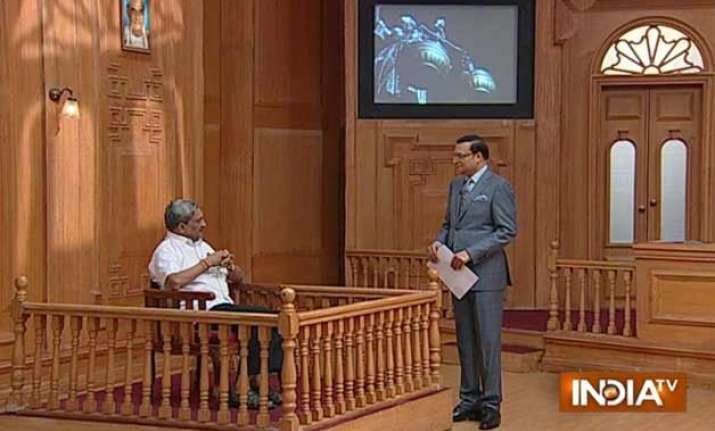 New Delhi: Defence Minister Manohar Parrikar has said there has been no interference of the Prime Minister's Office in the working of his ministry, nor has there been any "unnecessary delays" in arms acquisitions in the last one year.
Replying to queries from Rajat Sharma in the show Aap Ki Adalat, to be telecast tonight on India TV, Parrikar said: "Prime Minister has not given me any direction specifically relating to my ministry. I am reading about interference of PMO in defence only in the press. In inter-ministerial matters, we occasionally take help from the PMO, for example, in the OROP (one rank one pension) issue which involved both the Finance and Defence Ministries.  But in other matters, there has been no interference from the PMO."
Parrikar refuted media reports about delays in arms acquisitions and blamed "arms dealers" for "floating such stories".
"During the previous regime, arms dealers, who were basically agents,  had their networks in defence deals, but now they have lost their earnings. Already we are pressing for lowering prices, and automatically they are a disturbed lot. They float lots of stories."
Parrikar said: "There has been no unnecessary delays in defence deals during my tenure. Nearly Rs 1,52,000 crore worth defence contracts have either been signed or letters of intent issued. Out of this, Rs 1,16,000 crore worth deals have been signed, and letters of intent have been issued for Rs 32,000 crore worth deals.
"Rs 5,10,000 crore worth deals are in the contract vetting stage. Moreover, Rs 50,000 crore worth deals are in CFS stage, that is, these will either go to the Cabinet Committee on Security, proper explanations sought and then finalized.  
"So Rs 2 lakh crore woth defence deals have been cleared during the current NDA government's tenure. There are Rs 75-80,000 crore worth capital acquisitions in defence. If you take still more decisions, then you won't be left with money to pay. I'm quite a good budget planner, and we are planning for acquisitions over the next 10 years. So overall, we are one step ahead, and not behind."
Asked about the state of defence preparedness, the Defence Minister said: "if any country attacks us, we will definitely give them back their own medicine. But I have to move a step ahead. There is a proverb, goats, not lions, are sacrificed at the altar. We are no more goats. We have definitely crossed that stage and we are quite strong. But we have to become lion, so that no one dare looks at us."
"But this does not mean, we will crush others, or do 'dadagiri' against others. We don't need to, but we need to beef up our strength, but that is not done in a single day. One can't acquire six- or eight-pack abs by doing physical exercises in a day."
Parrikar disclosed that in his more than a year tenure as Defence Minister, he spent only one sleepless night, the day when Special Forces conducted their operation against NSCN(K) rebels across Myanmar.  "I was not able to sleep. It was quite a tough decision. We had kept helicopters on standby for rescue purpose, but they were not needed."
Parrikar described the handling of Pathankot air base attack as "perfect" and added: "I do not think there was any delay. Army was in full control of the defence area. All the terrorists were killed in the joint operation of NSG and the Army. Earlier, terrorists had targetted 42 Army famil members in an attack on an army camp in Kashmir. In Pathankot, there were nearly 3,000 family members staying, but the operation took place 100 to 150 metres away from the residential area. Our success lies in the fact that we virtually cornered the attackers. The only technical lapse was how they entered the airbase. Overall, there was good synergy in the entire operation."
Parrikar pointed out that he had recently visited the airbase in Bareilly, UP, where he found a 'basti' (slum) close to the airbase. This raises question mark on whether there could be ISI sleeper cells there. The state police does not help us in that."
Rajat Sharma's show Aap Ki Adalat featuring Defence Minister Manohar Parrikar will be telecast tonight at 10 pm on India TV. Repeat telecasts will take place on Sunday (Feb 7 ) at 10 am and 10 pm.