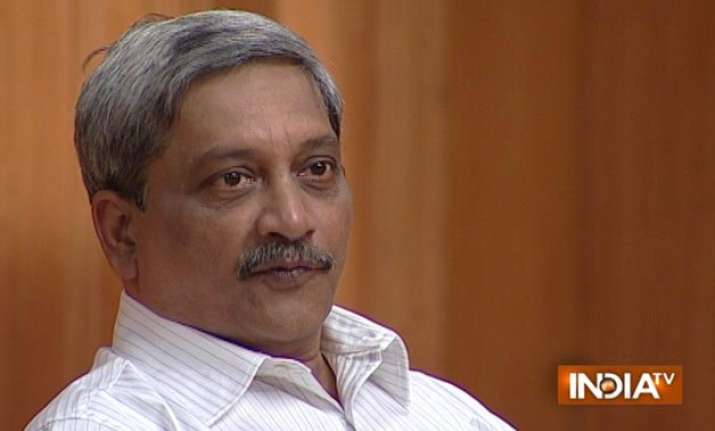 New Delhi: Defence Minister Manohar Parrikar has said that India can strike back at those who masterminded the Pathankot air base attack at a time of its own choosing. "Selection of time will depend on creation of capabilities and our choice. That is very important," he said.
Replying to questions from Rajat Sharma in the show Aap Ki Adalat, to be telecast on India TV this weekend, Parrikar, however, was careful to clarify that this planning was not aimed at any neighbouring country.
"You have to plan, Here I have named individual and organisation, and have not named any country, because if it's against a country, then it means war. We want to teach a lesson to the individual. Where and when, that will be our choice," Parrikar said.
Asked why India has not launched a counter-attack against terror camps in Pakistan after the Pathankot air base incident, Parrikar said: "How do you know where we should strike and where we should not. Such things are not disclosed in public. We must have the capability. And Pakistan...I will not name any country...They take sort of fights with us by sending terrorists. Such people need to be taught a lesson. There is no question mark in it. But when, how and at what time, should be decided based on our convenience.
"I can assure you, on a different level, this has already been achieved. You see the overall scenario of terrorist incidents. Why did they come to Punjab, because in Jammu-Kashmir, there is the army, and the army has neutralized them to a large extent. The ratio of our losses compared to killing of terrorists is widening quite big now. Earlier it was 1:1, now it is 1:4, and even that should not happen. It should come lower than that.  So, we have initiated many counter measures there. Pathankot was a high-publicity high-value target, and I think now that we have begun replying, they have learnt to an extent. If some groups have not learnt, I can assure you they will understand that soon, but I will not do that by disclosing it now."
Asked why India was not carrying out cross-border strike against terror camps as it did against the NSCN(K) rebels inside Myanmar, Parrikar said, he would not disclose much in such matters, otherwise "the surprise element will be gone".
"Once it happens, you will come to know about it. In the North-East, those who attacked our 6 Dogra (regiment)... we didn't tell them what we were going to do.
"...In Myanmar, the incident that you are quoting about, when we'll do, how we'll do and where we'll do, I can't tell you the exact spot where we did it. We did not make any advance briefing to the media about it. What you are saying is post-facto. Secondly, your assumption is based on various information that it took place at a particular spot, but we don't divulge that. But we did it because we had proper intelligence, proper capability and the time was right," Parrikar said.
The Defence Minister said: "I am still saying what I said earlier that those who inflict pain on us, we will definitely inflict pain back on them. Because they will not understand, unless pain is inflicted on them. ..but here I am adding a clause, I will not disclose where, when and how..it's our choice."
When Rajat Sharma pointed out that the Pathankot attackers had rehearsed the attack at a Pakistani airbase, Parrikar replied: "I can tell you this much that their pushers were in Pakistan. I can't reveal the details, because as we say, no one tells the world what you do and what happens inside a bedroom. So in such operations, nothing is revealed to the world, but we will do it surely."
Asked why the army was not carrying out cross-border strike as the US did to kill Osama bin Laden inside Pakistan, Parrikar said: "The US took four to five years to locate Osama bin Laden, and to clear their doubts about his location, it took another one and a half years to plan the operation. When the US planned an operation inside Iran, their helicopter crashed in the desert and they faced humiliation.
"I am only saying that the operation that we plan, or whatever we are doing, I am not saying against Pakistan or any camp, there should be perfect planning, and it has to take care of everything. Your information should be perfect. Everybody has general information, and specific information plan a more important role."
The Defence Minister went to the extent of saying that India "was losing much of its patience" and "we would respond to the terror attacks with vigour" (eent ka jawaab patthar se denge).
Parrikar said there has been fresh information that some of the Pathankot attackers were inside the airbase even before the intelligence was received. "Some people have inferred wrongly about the gaps that I had mentioned. The airbase has a 25 kilometre periphery, and they should not have entered, but we got advance information only 10-12 hours earlier. Now more information has come saying probably they (attackers) were in before the intelligence was received by us. Anyway that will be investigated by agencies and things will be clear. That is the gap which I was saying.
"But the success of operation was that we were able to corner them and kill all of them. It was not easy. Six people, who had come with very clear intentions that they will lose their lives can actually do many damaging things which we did not allow, that is the success part of it. But this will not stop here. Why should we be defensive? People who sent them here have to be taught a lesson," he said.
Defence Minister Manohar Parrikar in Rajat Sharma's show Aap Ki Adalat will be telecast on India TV on Saturday, February 6 at 10 pm. The repeat telecasts will be on Sunday, Feb 7 at 10 am and 10 pm.