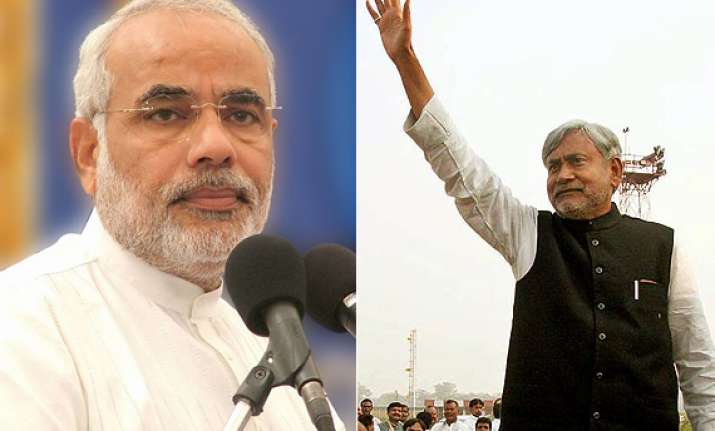 New Delhi, Sep 10: JD (U) president Sharad Yadav has announced that his party will contest around 100 assembly seats in upcoming assembly elections in Gujarat.
He further added that Bihar Chief Minister and Narendra Modi's bête-noire Nitish Kumar will campaign against Modi in these elections.
"There is no alliance between BJP and JD(U) in Gujarat. We can have alliance with BJP in every state except Gujarat. There are some districts where we will contest on our own and Nitish Kumar will campaign in favour of our candidates," said Sharad Yadav.
The statement of JD(U) president becomes significant in view of Nitish Kumar's covert objections  to Narendra Modi's candidature as BJP's Prime ministerial candidature in 2014 general elections.
Last time, JD(U) had contested 30 seats in Gujarat although they could win only one seat.
Commenting on JD(U)'s decision, BJP leader Balbir Punj said that JD(U) is an ally and BJP will discuss the issue with Nitish Kumar.
Nitish Kumar has never been comfortable with Narendra Modi as Bihar has around 16 percent of Muslim population and Nitish has successfully weaned away a significant chunck of Muslim vote bank from Lalu Prasad's RJD in last two assembly elections.
Narendra Modi will be seeking people's mandate for third consecutive time in Gujarat . He has never shared his Prime ministerial ambitions publically but has been positioning himself for the coveted job within BJP for quite a long time.
To win the hearts of minorities who are supposed to be against his candidature for the top job, Modi had recently launched a series of 'Sadbhavna yatras'.
Sharad Yadav's statement once again makes it clear that Nitish Kumar is in mood to relent on his incessant opposition to elevation of Narendra Modi's stature in national politics. Now it remains to be seen how Narendra Modi reacts to this fresh challenge from Nitish Kumar in his own backyard.