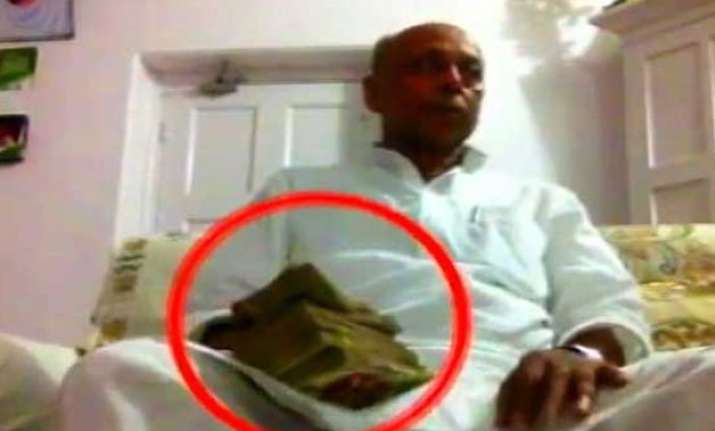 New Delhi: A day before scheduled voting for first phase of Bihar elections, Awadhesh Kushwaha, a minister in Nitish Kumar's cabinet, resigned after a video emerged showing him taking money in a sting operation.
Kushwaha was the urban development minister and was contesting elections from Pipra constituency of West Champaran district.
The sting operation showed him accepting Rs 4 lakh bribe.
In the sting operation conducted by a little known Jai Hind Bihar, Kushwaha is shown accepting money. The video was uploaded on Yotube which has gone viral.
In the video, Kushwaha is seen taking the bribe by promising contracts in the next government if the JD-U comes to power.  The authenticity of video is yet to be established but JD(U) said it believes that the "sting operation is true."
It is also not clear in the video that who is giving the alleged bribe.
"His (Awadhesh Kushwaha) resignation has been sent to the governor's house," JD(U) chief Sharad Yadav said.
"Party believes that the sting operation is true," he said.
Highlighting the promptness with which the party acted on the allegations, Sharad Yadav said, "Whether it was the Vyapam Scam, Lalitgate or Sushma Swaraj's matter, that party did not take any action."
The stage is set for voting in 49 seats of Bihar assembly elections in the first phase of the five-phase poll on Monday.
A total of 1,35,72,339 electorate are eligible to decide the fate of 583 candidates for the 49 seats in 10 districts in the first phase of elections.
Voting will start from 7am.