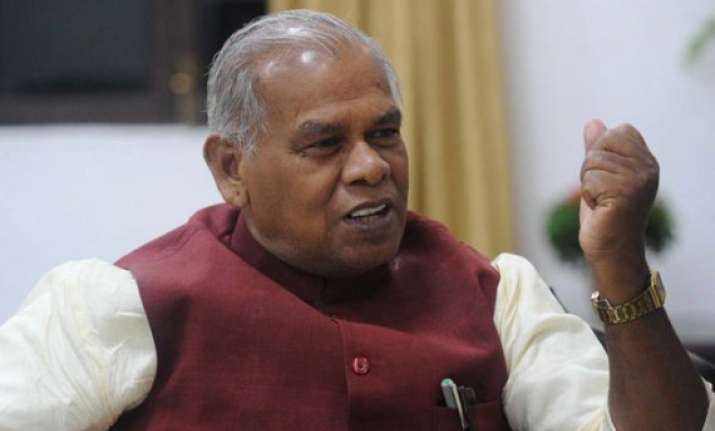 Patna: Handpicked by former Bihar chief minister Nitish Kumar to succeed him after a stunning electoral reverse for the JD(U) in May this year, Jitan Ram Manjhi has now said the grand alliance of the JD(U), RJD and Congress will decide who will be its chief ministerial candidate after the 2015 assembly elections, a suggestion being read as Kumar wouldn't be the automatic choice of the alliance for CM.
"No single party can decide about the leader. If all other allies agree on the name of Nitish Kumar, he would be elected," Manjhi said on Monday , animating the political discussion in the state.
Asked who else in the alliance could stake a claim, Manjhi said, "There are many top rankers in the alliance capable of becoming CM. "Trying to give a different dimension to the issue, the CM said the grand alliance has been formed to not just choose the CM, but for a bigger cause and to counter a larger challenge.
Sources say that Manjhi, who was placed on a Mahadalit pedestal to forestall any attempt by BJP to destabilize the JD(U) government, is now exercising autonomy sensing he can't be dumped by the party except at the cost of annoying a significant part of JD(U)'s constituency .
In five months as CM, Manjhi has emerged as a rallying point to a section of JD(U) unhappy with Kumar, which provides cold comfort to Nitish loyalists who claim corruption under the new regime has risen. They compare the Chhath stampede with the Dussehra crush and say Kumar's handling of the tragedy was much better.
Significantly, Manjhi also spoke to RJD supremo Lalu Prasad in Delhi on Sunday with sources saying they discussed political issues. They also said Kumar was being possibly tested against his commitment to make any sacrifice to keep the communal forces out. Is he ready to give up CMship: Manjhi seems to be asking.
                         
By seeming to thus raise the political cost of his removal from office, Manjhi is complicating matters for Nitish, who has said he is ready to once again take over if he gets the `mazdoori' (public support) for his work. Manjhi has so far shied away from endorsing this, while admitting he is JD(U) "supremo".