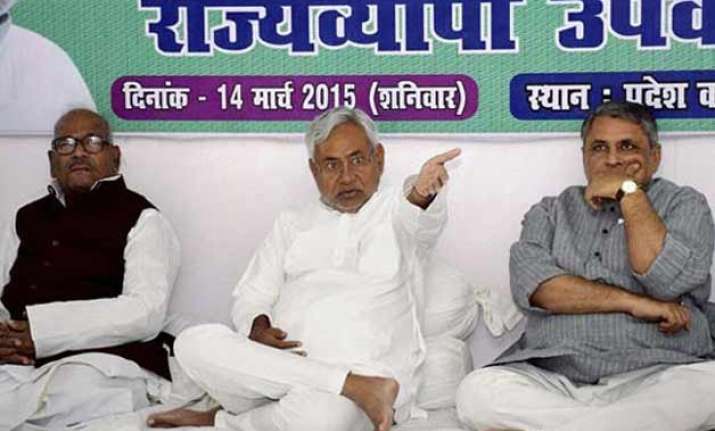 Patna: Bihar Chief Miniter Nitish Kumar today warned the central government against any move to implement the land acquisition bill in Bihar.
Nitish Kumar started his 24 hour 'Satyagrah' against Land Acquisition Bill as part of JD(U)'s state-wide agitation. He said even if bill is passed by the Parliamnet they will not allow its implementation in Bihar.
He hit out at the Modi government by saying 'achhe din' has come for corporate.
The bill was recently passed in Lok Sabha but is yet to face the hurdle of Rajya Sabha where the government is in minority. It is being opposed by all non-NDA political parties nationwide. Recently, Gandhian activist Anna Hazare protested against the bill which is being termed as anti-farmer and pro-industrialists by its critics.
In a brief speech, Nitish said, "We will not let the land acquisition bill be implemented in Bihar even if it gets passed (by the parliament). We will not sit quietly and will take this movement further. People from all the over the country who are with us on the issue will support us in this campaign."
"This act will affect farmers' life. The 1894 act gives absolute power to the government to acquire the land. I opposed SEZ in 2006. The act drafted in 2013 ended the absolute power of the government in acquiring the land and it made farmer's consent compulsory. Social assessment clause was added. If the land is not used for the purpose it acquired, it will be returned," he said about the Land Bill that was passed in 2013 by the UPA government.
"The BJP supported the (2013) act and even took credit for it. What has changed in a year that they want to amend it? Whatever relaxations were given to farmers, it is being taken back. Although some changes have been done, it is not enough," he further added.  
The socialist leader said, "It was promised that farmers would get 50% more than the minimum support price (MSP) but nothing has materialized."
Hitting out at BJP led central government Nitish said, "We respect majority but it does not mean you forget the people."
Nitish also blamed the BJP government for working at the behest of corporate. He said, "'Achhe Din' have come for corporate world. The income of corporate has increased. They (Central Government) want to do everything by force. They want to make a handful of affluent people happy. This model of development will not succeed. Without inclusive development, the development will not reach to the people on lower level.
"We welcome 'Make in India' but there should also be 'Make in Bihar' and 'Make in village," he said.
Mr Kumar came to the party office in the morning and after doing yoga and taking bath there, began the fast. State JD(U) President Basistha Narayan Singh, senior minister Vijay Chaudhary, Shyam Rajak, Rajiv Ranjan Singh Lallan, JD(U) MPs Ali Anwar, Harbansh, Gulam Rasool Balyawi and senior party leader Sanjay Jha joined Mr Kumar in the protest.