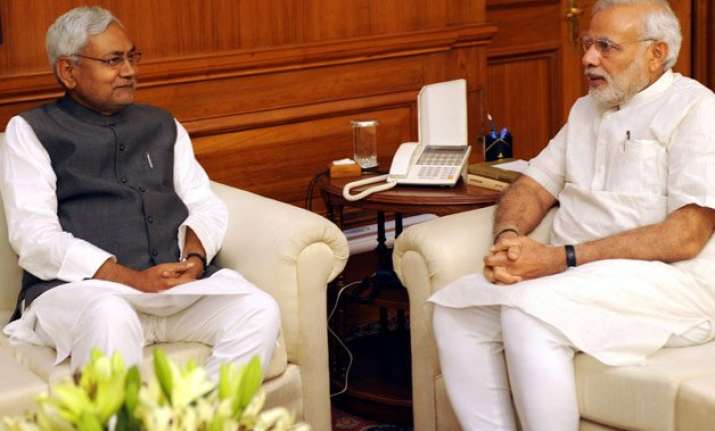 Patna: Bihar Chief Minister Nitish Kumar has blamed his former deputy Sushil Modi for his rift with Prime Minister Narendra Modi.
In an interview to a news channel, Kumar said that he was never in the line to stop the then Gujarat CM Narendra Modi, now the Prime Minister of India, from campaigning in Assembly polls in Bihar.
"I never asked him not to campaign in Bihar, it was their (BJP) decision that Modi should not come to Bihar. It was totally their decision... after five-and-a-half years, these things are no more relevant... There is nothing personal about this... It's just that our paths are different now," Kumar told NDTV.
"I believed Sushil Modi's words (Woh toh mai Sushil Modi ke chakkar mein aa gaya) and that led to cancellation of Narendra Modi's campaigns in Bihar," Kumar added.
In previous Assembly elections in Bihar in 2005 and 2009 and also in 2009 Lok Sabha polls, it was reported that Kumar had asked the former ally, BJP, that Modi should be kept away from the state.
The rocky relationship between the two had surfaced in 2008 when Kumar returned the flood relief Modi had given to Bihar as Gujarat CM.
The Bihar Chief Minister, while recalling the cancellation of a dinner in 2010, said that it was also only Sushil Modi's call to cancel it - an issue now being raised by Modi to attack the Bihar CM in election rallies.
"Sushil Modiji planned the dinner, and he cancelled it. I was just informed about it. I only got trapped in his chakkar," Kumar added.
Nitish said that he was on Vishwas Yatra when the dinner episode happened. He said that the BJP wanted his presence at the event, which was planned by it only.
The BJP has been raking up the issue that Kumar had in June 2010 cancelled a dinner in Patna he was to host for party's national executive members after the saffron party refused to agree to his condition to keep the Modi out of it.
JD(U) quit the BJP-led NDA just ahead of the 2014 Lok Sabha polls. The decision was taken after the BJP made Modi the in charge of party's campaign.