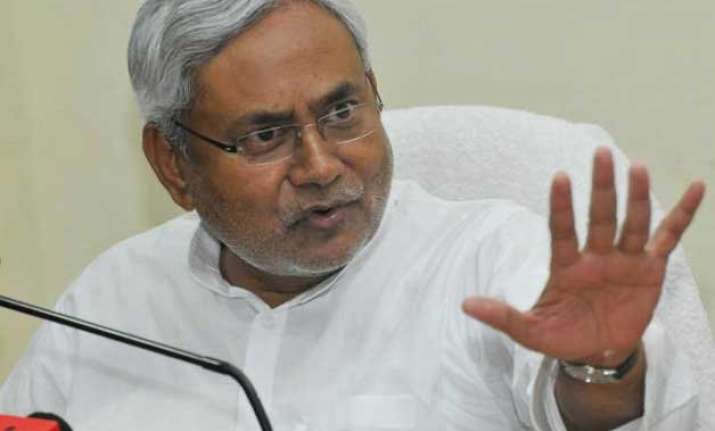 Patna: The Nitish Kumar government today drew the anger of opposition BJP over alleged irregularities in implementation of Food law in the state.
As the Assembly sat for the day, BJP members insisted that adjournment notice given by two of its members be taken up first on alleged irregularities in implementation of Food law in Bihar since February last year.
Binod Narayan Jha, who had given the adjournment notice with party MLA Sanjay Singh Tiger, alleged that more than 50 lakh beneficiaries have yet not received their ration cards.
The BJP members trooped into the well and started shouting anti-government slogans.
When all persuasions to restore normalcy in the House failed, Speaker Uday Narayan Choudhary first adjourned the house till 12 o'clock and later till 2 PM.  
Chief Minister Nitish Kumar was not in the House at the time.
BJP had created ruckus in Legislative Council yesterday on the same issue.
Later, speaking to reporters outside the House, state Food Minister Shyam Rajak trashed the opposition allegation and said BJP was doing so to attract publicity.
On the issue of ration cards, he said the state government has handed over a list of 47 lakh additional beneficiaries to the Centre by posting names on NIC website three months back.
"It is the fault of the Centre that it has not incorporated these additional names and provided extra allotment of foodgrains to Bihar under Food law," he added.
Rajak said a total 8.71 crore beneficiaries have been identified for subsidised foodgrains under Food law in the state. Out of this, 7.6 crore have been getting the benefits and list of 47 lakh more eligibles were sent to the Centre three months ago.
He said a list of around 71 lakh additional beneficiaries were being prepared to include SC/ST, widows and of those not paying income tax for the benefit of the food guarantee legislation.
In reply to a question on Union Food Minister Ramvilas Paswan's threat to stop foodgrains allotment to the state under the Food Act from March 31, 2015 for not providing ration cards to a large number of beneficiaries and alleged irregularities among those getting it, Rajak said the state was not at fault and dared the Centre to do so.