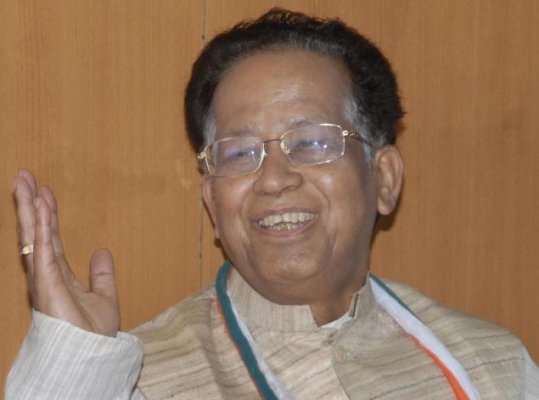 Guwahati: Assam Chief Minister Tarun Gogoi today said it was the "joint failure" of both the state and central governments to prevent the recent carnage of tribals by Bodo miltant group NDFB (Songbijit) in the state.  The Chief Minister also accused the Intelligence Bureau (IB) of leaking to the media its report on receiving prior information about NDFB-S attack "thereby exposing their own central government".
To a at a press meet here, Gogoi said "if you say so, yes it was a joint failure of the state and central governments.  There were lapses...I don't deny it".  "We want to find out where were the lapses and who are responsible for them. Let there be a judicial inquiry into the lapses. I don't want to blame anyone now", Gogoi said.  
"To contain insurgency is the responsibility of the state and central governments. But the operational head of the Unified Command Structure is the GoC of 4 Corps (in Tezpur of Assam) and not my Director General of Police", the Chief Minister asserted.
"The IB gave us information on December 23 at 3 pm that NDFB-S would strike and we got information about it before them at 12 noon. I could not take action but our case is why the army, SSB, paramilitary forces did not act when they had the information", Gogoi said.
"The Centre has constitutional responsibility to take action against militants. So do I have and don't want to shrug it. But they have greater responsibility as their reach is far greater. They only have to talk with neighbouring foreign countries if anti-insurgency operations are to be carried out jointly", the Chief Minister said.
"The IB leaked out to the media that it had prior intelligence information about the NDFB strike and had accordingly informed us. But they have not realised that they have thereby exposed their central government. The leaking out of information by IB is most unfair and unfortunate", he claimed.
Rejecting Gogoi's view, BJP Assam unit President Siddhartha Bhattacharya told reporters here that "law and order is a state subject. The Centre can only give forces to the state but it is the state's responsibility to deploy them."
"In this case, the state government is a big failure in deploying the forces properly to stop violence," he added.